Home > Blog > Everyday > Enjoy your Winter Sports with total peace of mind: but which insurance policies?
Enjoy your Winter Sports with total peace of mind: but which insurance policies?
A fall during skiing can be expensive, what with the search & rescue costs from the slopes, sometimes by private ambulance or even by helicopter, to the costs following the injury. Only travel if you are insured: supplementary health insurance, civil liability insurance, travel insurance and accident cover.

In this article regarding your winter sports, the following information provides the real costs of an accident or fall in the mountains and helps you understand the different insurance options.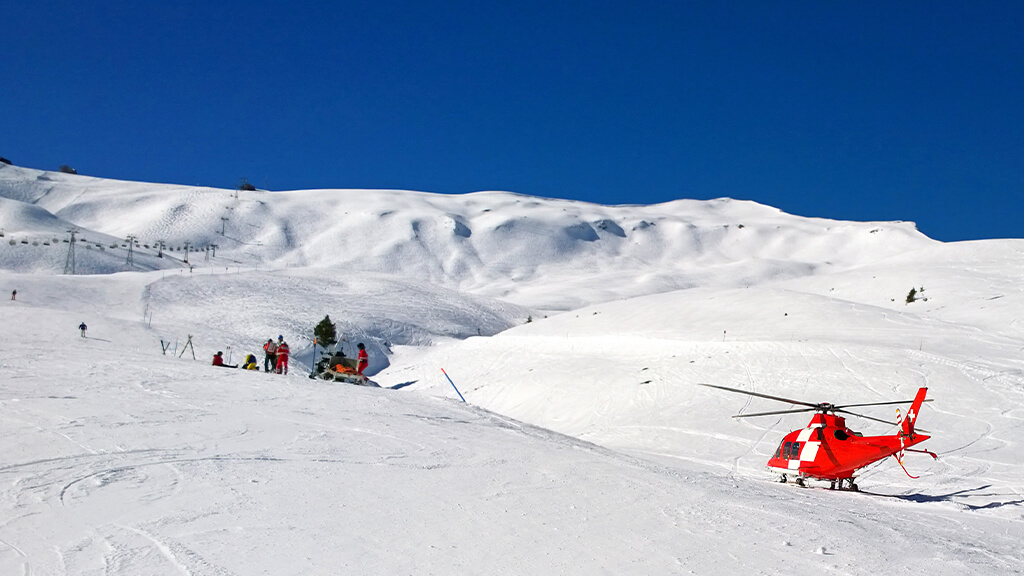 Is an insurance policy to cover winter sports a good idea?
The financial implications of a ski accident should help in answering this question.
The financial calculation
Mountain rescue costs can quickly become expensive. Count on €300 to €500 for an intervention on the slopes and between €500 and €2000 for off-piste, and €30 per minute of the rescue helicopter's flight. As a result, the final bill can easily exceed €2000.
Add to this the costs after an accident: convalescence, prostheses, treatments, aesthetic damage, etc. Anything outside the scope of the Caisse Nationale de Santé (CNS – national health service) can add up to thousands of Euros.
The risk is real; with approximately 50,000 interventions recorded each year in French ski areas alone.
The alternative: a combination of insurance coverage
If you really want to enjoy winter sports with total peace of mind and be financially protected in the event of an accident, you need two types of insurance:
Travel insurance, which covers the costs of search & rescue in the mountains (among other things as mentioned below).
Personal accident insurance, which compensates for the damage caused by the accident in the long term.
The role of each insurance policy
Your son's a broken arm, he needs to be transported by helicopter, the repatriation of the whole family to Luxembourg, also the reimbursement of the medical expenses of the lady he knocked down: which insurance comes into play at what point?
Personal liability insurance (RC)
Personal liability insurance (RC) (often included in your home insurance policy) covers damage caused to third parties. If you cause another skier to slip and you are responsible for it, this insurance will pay for their damages (repatriation, convalescence, work interruption, compensation for material and physical damage, etc.).
All members of the household are covered by Personal Liability (RC): you, your spouse, your children and even your pets.
To summarise, Personal Liability (RC) is an absolutely necessary cover, but you should already have it. However, check that your cover is in force and, if necessary, ask your agent for a certificate of insurance.
Supplementary health insurance
This is the insurance that will cover the consequences of your twisted knee at the bottom of the Marmot Trail. It covers the costs of:
consultations and medical examinations
hospitalisation and a hospital stay
outpatient surgery
medical treatment
ambulance transport to the nearest hospital
external and internal prostheses
specialised support
health care provided abroad (unforeseen or planned care)
alternative medicine (e.g. osteopathy)
etc.
60% of Luxembourgers have this complementary insurance. Make sure that you are covered.
Travel insurance
There are still a few elements that the two previous insurances that do not cover you in full: your luggage, cancellation of your trip, reimbursement of your stay, mountain rescue services, on and off-piste. All of these are covered by travel insurance.
To make it easy for you to compare, here are the events covered by the Travel module of Foyer's mozaïk insurance (the most complete):
Assistance and rescue
Repatriation
Medical expenses abroad (after the intervention of the complementary health insurance and the CNS)
Reimbursement of the cost of cancelling or modifying the trip
Luggage protection up to 7500 € (theft, disappearance, damage)
24/7 assistance
Personal accident cover
The Personal Accident cover is a complementary coverage to the health insurance. It compensates for permanent disability of all or part of the body and intervenes also in case of death.
Thanks to it, you can also benefit from home support after an accident, such as tutoring classes for your children, delivery of medicines or shopping, walking your pets, etc.
Why is this level of insurance coverage necessary?
Even if your goal is not to go down the slope at full speed all the way down to the snow park, keep in mind that snow sports are risky activities. Everyone remembers Michael Schumacher's terrible skiing accident, which put him in a coma in 2013. The recent death of French actor Gaspard Ulliel after a skiing collision is another reminder of the dangers on the slopes.
Travel insurance for winter sports is an obvious and useful choice that should be part of every snow lover's luggage.
Prepare for your holiday by discovering the other articles in our "Winter sports with piece of mind" series : Mountain rescue, How to avoid injury and Getting to the resort by car.
Share this article: