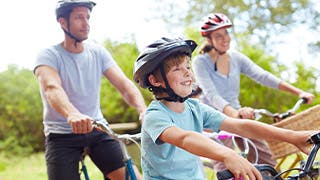 Take advantage of the lifting of the lockdown - what could be better to go cycling with your family in complete safety
Now is the time you can get the children to move beyond the garden lawn and out into the wider world. Explore the surrounding landscape and take advantage of some quality time together - a real moment of freedom!   However, before you go it is advisable to ensure your children are correctly equipped.  Let's do a quick check-up of the safety measures before you get cycling.

Reopening of sports centres: how to start again completely safely
Since 11 May, for those who like to do sports are allowed to enjoy certain activities.  Swimming pools and gyms should be able to open their doors again, offering numerous possibilities to get back into shape or work out. To ensure you are clear about what is permitted, we set out in detail what is permitted and what is not in each category of sport, along with the good habits to adopt to continue to combat the spread of the virus.

Let's go for 4 months of barbecues – however, remember to be careful!
Barbecues are starting to sizzle in all the gardens. The sun and this confinement is a good recipe for taking advantage of outdoors with the family.   It's a perfect event to make the best of this great weather, but be careful!  The risk of accidents within the home is very real. Here are some tips to ensure you enjoy your barbecues safely.

With online services strengthen the contact  
Online services, client areas, applications and web interfaces have been essential during lockdown. Well-prepared companies have been able to meet their customers' needs despite their offices being closed. Today, as lockdown is being lifted, sanitary measures and social distancing remain important if we are to see the light at the end of the tunnel. But online services will allow you to keep in touch easily and whenever you want.

Reopening of branches and counters from Monday, May 11th
We are pleased to announce the reopening of our agencies as of Monday, May 11th.   In order to protect the health of our clients, agents and employees, we have implemented the hygiene measures recommended by the Government.   However, in order to be able to correctly apply the safety instructions and  provide  you an optimal visit, we recommend that you make an appointment in advance.   For your emergencies (need for a green card, a certificate, etc.), our counters in Leudelange can also welcome you from 8.30 a.m. to 12.00 a.m. and from 1.30 p.m. to 5.00 p.m.

Patient-doctor communication: teleconsultations facilitates interventions
With the Covid-19 epidemic, a simple visit to the doctor has become risky. This crisis therefore crowns the teleconsultation and encourages many of us to use it for the first time. The technology has existed for a few years however; today it has a new significance as it becomes the "best practice". What do you need to know so we can consult with confidence? What benefits can you derive from it? We answer all your questions in this article.

A runny nose: simple seasonal allergy or COVID-19? Recognise the symptoms
We've known better springs… This is certainly not the time to have a runny nose, but allergy sufferers can't do anything about it. Like every spring, pollen makes them sniffle and sneeze for a few weeks. How can they reassure themselves and differentiate this from coronavirus symptoms?

Teleworking: is your professional equipment insured at your private home?
What will remain of this emergency practice, this lockdown regarding the need to work from home?   Will working from home continue to be common practice in Luxembourg? If this is the case, do you know the situation regarding the insurance of this professional equipment related to theft or accidents whilst this equipment is kept in your home? The two following cases immediately separate this question: is the equipment provided and owned by an employer, or is the equipment yours, typically if you are self employed.

Keeping your children safe and well during lockdown
Coronavirus isn't the only danger we're facing at the moment. Almost every country in the world has closed its schools, parents are left having to do two roles: being a home teacher and also being a playmate. In these uncertain times, it's easy to get distracted and not have your eye on every danger. Prepare your home properly to keep the whole family entertained and most importantly, safe during this lockdown.