As a socially responsible company, Foyer wants to step up its commitment.
Help us preserve the environment by reducing your use of paper documents.
Going
paperless
by switching to electronic documents has several advantages:
all your documents are available online in one location;
access to your documents is secure;
no more waiting: your tax certificates are available instantly;
no more paper: you help support sustainable development and the reforestation of Luxembourg.
I would like to take a simple action for the environment.
This enrichment planting helps complete and accelerate the natural succession process following a clear-cut of about 7 hectares of land. By the end of the initiative, we will have planted some 2,000 forest plants, mainly beech and maple trees, that promote biodiversity.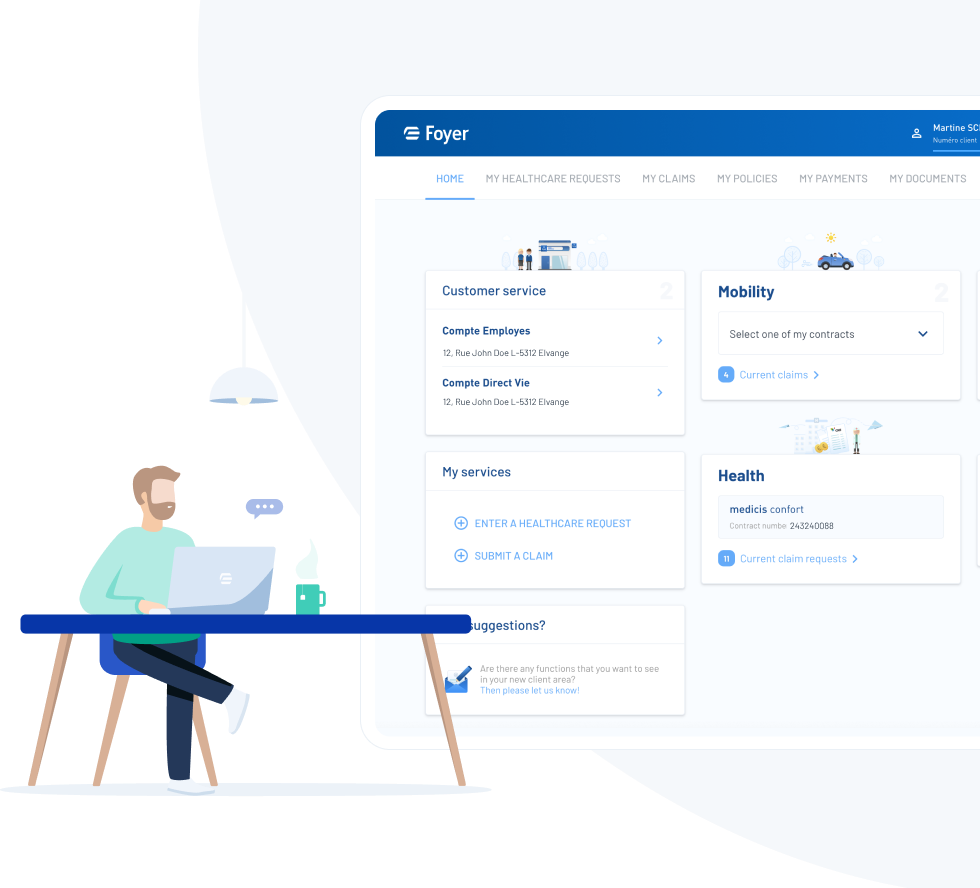 Access your
Client Area

from your computer or your mobile

Discover all the functionalities and services available via the app and your Client Area.

Save time, track your claims and above all, focus on what really matters.
Accessible 24 hours a day
We are available 24/7
View your policies
You can view all your policies
Real-time monitoring
You can find up-to-date information about your claims
Exclusive services
Save time and submit your claims or reimbursement requests online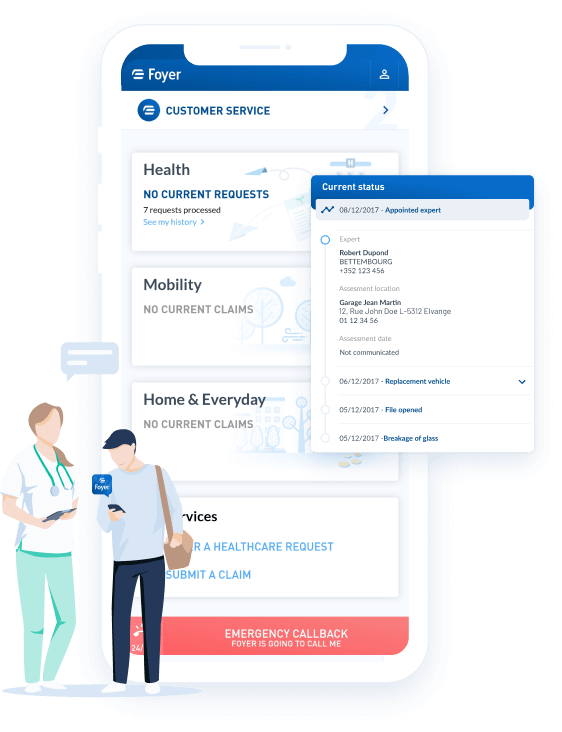 On your mobile
MyFoyer App
The MyFoyer app was designed with you in mind. It is simple and intuitive, helping facilitate formalities and offering maximum transparency.
Manage your healthcare requests in a few clicks
Monitor your reimbursements or requests
Submit and track your claims in real time
Save time and submit your claims online. You can also track the progress of your claims in a few clicks.
Need assistance?
Foyer is available 24/7 to reassure you and help you with formalities, should you have any problems
Stay close to your agent
Your agent's contact details are with you, wherever you go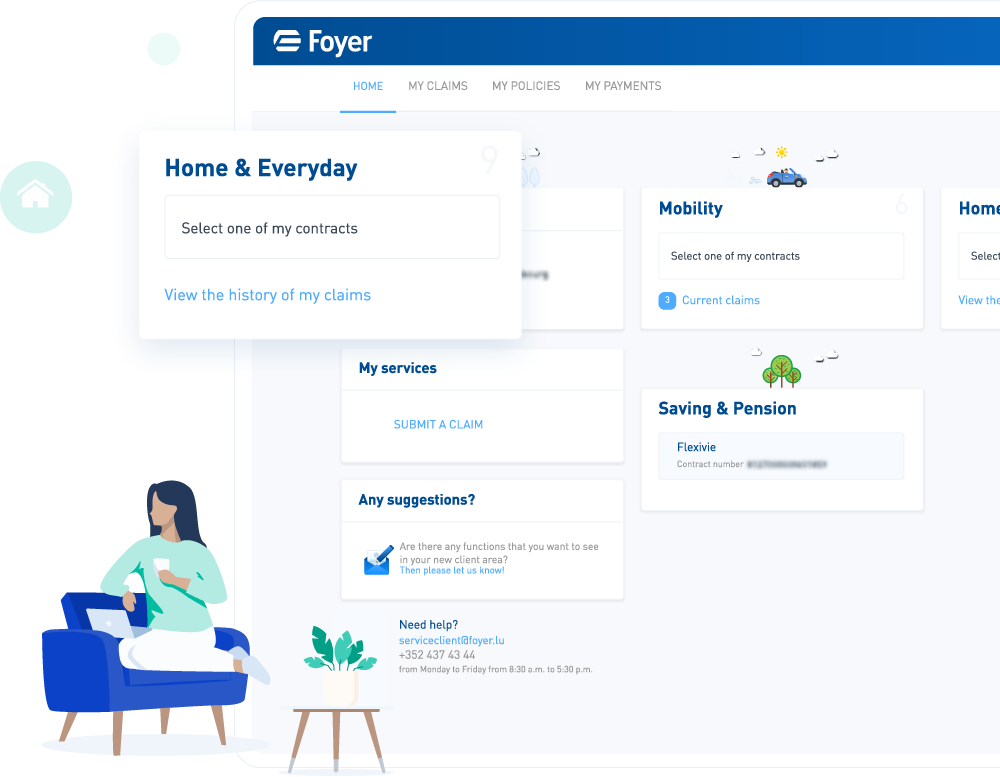 On your computer
MyFoyer Client Area
You can instantly view all your policies and take advantage of exclusive services 24/7 via the MyFoyer client area.
View your policies
Do you have any questions about your cover? You can easily view your policy details.
View your claims
You can track your claims easily
Manage your profile
Have your personal details changed? You can update theme yourself, without needing to call us.
View your agent's contact details
Need to contact your agent? You can quickly find your agent's contact details.
View and pay your bills
To ensure faster and simpler management, Foyer gives you the opportunity to view and pay your bills online.
Access your documents online
View or generate your requests for documents such as insurance and tax certificates with a single click.
Ask for Healthcare reimbursements or cover
To save time and speed up your reimbursements, apply directly in your Client Area.
View all the household's policies
All the policies of members of your family in a single platform for greater visibility.
View your virtual customer card
To find all your useful numbers easily.
Sign your documents remotely
Thanks to the electronic signature option, you can sign your insurance policy or your direct debit authorisation from your sofa with a simple click!
FAQ
Do you have any other questions?
Who can create an account on the MyFoyer application?
Account creation on the MyFoyer app is reserved for Foyer insured parties who have taken out a health, home or auto contract or who have a Medicis group contract.
What information is necessary to create an account?
To create an account, you must enter a valid e-mail, your personal information (first and last name, date of birth and postal code) and your customer number. Nothing more!
What type of health requests can I make in MyFoyer app?
MyFoyer lets you directly send health reimbursement requests and coverage requests.
Where can I follow the progress of my request?
The progress of your request appears in real time in the mobile application: firstly in the "requests in progress" list right after being sent, and later in the "processed requests" list when it has been received by our claims managers.
Need advice?
Our agents are there to support you