Home > Blog > Everyday > Winter sports with total peace of mind: getting to the resort by car
Winter sports with total peace of mind: getting to the resort by car
Going skiing by car is undoubtedly an out-of-the-ordinary trip. You travel with a large amount of luggage, on slippery surfaces and congested roads. Here are some preparation and driving tips to make this trip completely safe.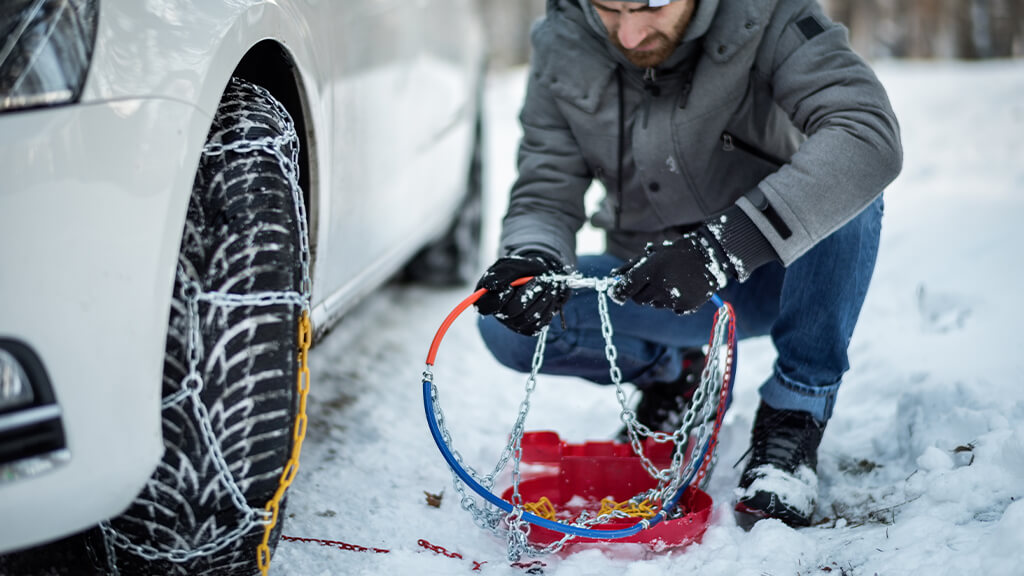 Snow tyres
In the snow, in the rain or in dry weather, winter tyres improve your road holding as soon as it gets cold (less than 7°C).
In Luxembourg, the use of tyres marked "M+S" is mandatory in winter conditions (snow, ice, frost), even outside the winter months. That said, this is not the case everywhere.
Where are winter tyres compulsory?
France: in certain departments of the Alps, Pyrenees, Massif Central, Jura, Vosges and Corsica, your vehicle must be fitted with "M+S" tyres or have chains or special snow socks for your wheels & tyres.
Switzerland: snow tyres are strongly recommended. In the event of an accident or traffic stoppage, you could be fined if you do not have suitable tyres.
Italy: the Valle d'Aosta region requires snow tyres to be fitted, otherwise chains must be carried on board the vehicle.
Germany: as in Luxembourg, winter conditions require the use of snow tyres. However, the "M+S" label is not enough. It must also be accompanied by the snowflake representing "Alpine" certification.
Austria: obligation to have tyres marked "M+S" in winter conditions. In some places, chains may also be required.
Are M+S tyres winter tyres?
The M+S logo is a marking from the manufacturer that means the tyres are suitable for driving on Mud and Snow.
They have softer rubber and deeper tread depths, but they still do not offer any real performance guarantee in winter conditions. No standardised test officially validates their behaviour on slippery roads.
For this reason, many European countries are gradually imposing tyres bearing "Alpine" certification, identified by the 3PMS logo (Three Peak Mountain Snowflake). This logo represents a snowflake inside a mountain with three peaks. It is the only legal and official guarantee of better performance on a snowy road.
To learn more about snow tyres and the various markings displayed on their sides, please see our article on winter tyres.
When should you put the chains on?
As soon as you go to the mountains and you know you are going to be faced with truly wintry conditions, it is recommended (and sometimes mandatory) to have chains on board the vehicle.
The chains allow you to maintain optimum grip, even with heavy snow cover.
They must be installed on the drive wheels of your car and ideally on all four wheels if it is a 4×4.
To avoid being caught off guard and having to find out how to use them in the worst conditions, we advise you to practice calmly at home before you set off.
Ensure you drive with the chains only on snow. They are not intended for other surfaces and do not allow you to drive at more than 30 km/h.
The tyre sock alternative
In the same price range, but a little easier to install, you can use snow socks instead of chains. They offer a similar gain in terms of grip and you can drive up to 50 km/h.
Remember that chains and socks only allow you to drive on snow.
Check levels
Before all long journeys, it is recommended you check the levels of the various liquids in your car. This is all the more important in winter as you don't want to break down in the extreme cold.
So, check the engine oil, brake fluid, power steering fluid, coolant and windscreen washer fluid.
Special fluids for the extreme cold?
Also ensure all these fluids are suitable for negative temperatures.
The majority of engine oils are effective down to -25°C, but there are also oils with a "0" index, which can withstand extreme temperatures (-30°C to -40°C) and high mountain conditions.
Coolants are generally suitable for most winter conditions. Value products can withstand up to -20°C and the best up to -35°C.
Windscreen washer fluid, finally, must be a winter product, or it will freeze. The best of these can cope with temperatures of -30°C.
Reflexes and caution
Should we drive differently in the mountains in winter? Access roads to ski resorts are often snow ploughed and passable, but beware of the unexpected. With snow on the road, you have to take all the precautions and anticipate low-grip situations, such as wet or icy conditions.
Anticipate, maintain control, respect safety distances, avoid sudden braking and accelerate smoothly. In short, adopt a smooth driving style.
Some additional tips
Keep a full tank: if you have to stop because of impassable roads, a breakdown or an accident, you can use the heating until help arrives.
Coaches use both sides of the road on hairpin bends. Give them time to manoeuvre and always look ahead.
Check that your wipers are not frozen and can clear the snow from your windscreen.
Keep a bottle full of winter windscreen washer fluid in the car.
When going downhill, use the engine brake rather than the brake pedal. If your car is automatic, activate the sequential mode.
When the road is not wide enough for two cars to pass, priority goes to those going uphill.
Prepare for your holiday by discovering the other articles in our "Winter sports with piece of mind" series : Mountain rescue, How to avoid injury and Winter sports insurance.
Share this article: