Home > Blog > Everyday > Winter sports with total peace of mind: how to avoid injury
Winter sports with total peace of mind: how to avoid injury
This year, don't let an accident ruin your holiday! Skiing, snowboarding and even sledding are great ways to enjoy winter. Fractures, dislocations and concussions, on the other hand, are much less pleasant.
This article, part of our Winter sports with total peace of mind series, was written to protect you from bad experiences.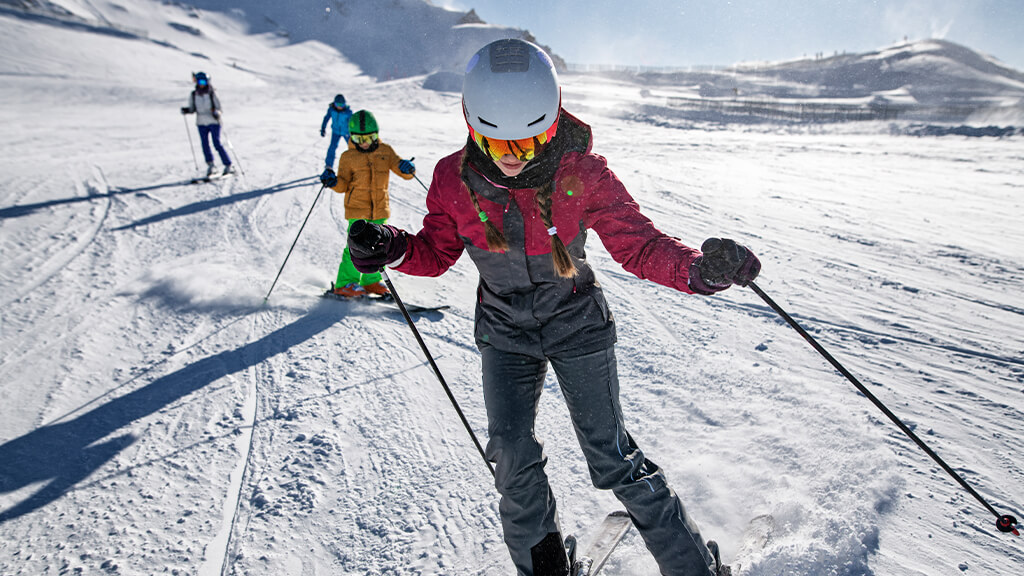 What are the most common injuries when skiing or snowboarding?
The risks are almost as varied as there are shapes of snowflakes! The association of mountain doctors (association des médecins de montagne, France) notes some figures.
Snowboarders mostly suffer wrist, shoulder or coccyx injuries. Knee injuries are more common among skiers, especially anterior cruciate ligament (ACL) tears.
Breakdown of injuries in alpine skiing
32% knee sprains (rupture of the anterior cruciate ligament in 18% of cases)
15% shoulder injuries
10% other knee injuries
3% wrist fractures
Breakdown of snowboarding injuries
25% wrist fractures
19% shoulder injuries
10% trunk injuries (spine, thorax, pelvis, etc.)
6% knee sprains
Fortunately, most of these injuries are preventable.
Up to half of injuries could be avoided with proper planning and preparation. Be sure to follow these prevention tips.
A bit of sports preparation
Winter sports are sports, obvious, right? Yet many forget to prepare themselves properly, to train a little and to warm up sufficiently.
Supposing you you follow a small physical preparation programme at 30 days ahead of departure?
The French Ministry of Sports suggests some daily exercises: squats, side lunges and forward lunges, planking, etc. 15 minutes a day.
Best practices on the slopes
A number of basic rules apply to everyone on the slopes:
Control your speed
Respect the priority of skiers further down the slope
Follow trajectories wide enough to anticipate the movements of skiers further down the slop
Always stop on the side of the slope and never behind a dip or point of limited vision to others
Watch out for skiers further up the slope when crossing
Respect the markings and signage
Make sure you're informed before you put your skis on
Resorts can provide you with daily information about weather conditions, the state of the snow and avalanche risk. A look at the resort's website before setting off will help you choose the safest runs.
Wear a helmet
Even if you learned to ski a long time ago, when the helmet was not fashionable, it is now the norm. 97% of people under 12 wear one and up to 70% of people over 31.
In terms of protection, wrist guards can prevent the majority of fractures in snowboarding.
Learn to fall
Avoiding a fall is not the only way to avoid injuries. A good skier or a good snowboarder must also know how to fall, without trying too hard to correct, cushion or do everything they can to stay on their feet.
By trying too hard to stay on your feet, your knee will support the full weight of your body, gravity and speed. In a split second, the anterior cruciate ligament (ACL) can break, stretch or tear.
In snowboarding, the majority of injuries to the wrist, shoulder or elbow are the result of bad landings.
Special precautions for sledding
It may come as a surprise, but sledding is the snow sport with proportionally the most serious accidents. Injuries to the torso represent 20% of the total. There is no special protection. You just have to exercise caution and common sense, not go crazy, take bumps or venture onto slopes that are too vertical.
Prepare for your holiday by discovering the other articles in our "Winter sports with piece of mind" series : Mountain rescue, Winter sports insurance and Getting to the resort by car.
Share this article: