Home > Blog > Everyday > Which types of insurance are required in Luxembourg?
Which types of insurance are required in Luxembourg?
Although many types of insurance are essential, not all of them are required. This is particularly the case for private liability insurance, home insurance and supplementary health insurance. This article will help clarify the situation and answer your questions about what's required, what's necessary and what's simply useful.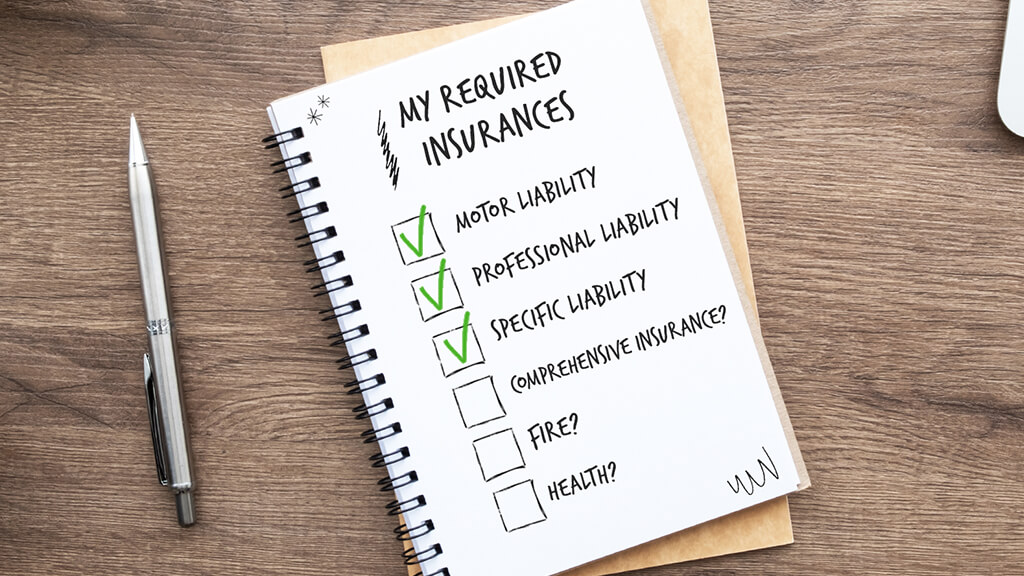 Truth be told, very few types of insurance are legally required in Luxembourg (imposed by law). However, some are contractually required, i.e. imposed by regulation. Then there are all the other types, which range from useful to essential depending on the case, but which are never required.
Category #1: types of insurance that are legally required in Luxembourg
Motor liability insurance
Motor liability insurance for cars and motorcycles is part of the civil liability insurance that is legally required in Luxembourg. This requirement applies to all motor vehicles, as well as caravans and trailers.
Please note: only civil liability insurance is mandatory, whereas comprehensive cover, driver's injury insurance, assistance and legal protection are optional.
Civil liability insurance only covers damage that you may cause to third parties. For example, if you hit another vehicle, this insurance will compensate personal injury and material damage with respect to the victim as well as the passengers in your own vehicle.
Professional liability insurance
Some professions are required to have specific insurance for their contractual liability, such as doctors, architects, travel agents, real-estate agents and lawyers.
The professional liability insurance covers material or immaterial damage or body injury resulting from negligence, error or omission by self-employed workers or company workers.
Specific liability insurance
Hunting requires you to take out specific liability insurance. Without insurance, you will not be able to obtain your hunting licence.
Owners of all types of boats (sail boats, catamarans, motorboats, etc.) are also required to have specific liability insurance for their vessels.
Without going into detail, it's important to remember that this requirement applies to all vessels registered in Luxembourg as well as all those circulating on the country's waterways (whether registered in Luxembourg or abroad).
Category #2: types of insurance that are contractually required
Fire insurance
There is no legal requirement to take out fire insurance, but you may be required to do so under a contract or lease.
This is one of the clauses in mortgage loans. Banks want to make sure the property they're financing is insured.
It's also something that landlords are entitled to demand in their lease contracts. In this case, the insurance has to cover the renter's fire risk as opposed to the landlord's fire insurance.
Comprehensive insurance
Full or partial comprehensive insurance is not normally required, but it may be required by the lender who finances your car.
In short, partial comprehensive insurance provides cover against glass damage, fire or theft of the vehicle. Full comprehensive insurance covers material damage, as well.
Category #3: optional insurance
Private liability insurance
Private liability insurance is not required in Luxembourg unless you own a dog,
However, it would be very unwise not to have it. It covers so many situations, e.g. if your child's ball breaks the neighbour's window or someone falls on the icy pavement in front of your house. What's more, in Luxembourg it covers both policyholders and the people who live with them (spouses, children, etc.).
Personal accidents cover
Your child trips and falls at home, you are injured playing a new sport or slip on a wet floor inside a shop, all of these events are covered by the personal accident insurance.
This optional insurance quickly becomes indispensable to be protected outside the workplace and excluding travel by car. In addition, personal accident insurance covers all the members of your household. A welcome supplement to personal liability insurance that only covers damage to third parties.
At Foyer, personal accident insurance can be taken out as optional coverage attached to our mozaik home insurance.
Public liability insurance
Professions for which this insurance is not mandatory can take out the Public liability insurance. This insurance covers their extra-contractual liability similar to private liability insurance.
Note: the general civil liability covers damages and losses caused to third parties, provided that these are linked to the "life" of the company and not to the services provided or the profession exercised (as opposed to the professional civil liability mentioned above
Health insurance and supplementary health insurance
As a worker in Luxembourg, you are automatically covered by the Caisse Nationale de Santé (CNS – national health service). This does not fully protect you, however, as the CNS only reimburses around 88% of healthcare expenses for adults.
Supplementary health insurance is a good idea if you want better reimbursement. You will also get better coverage for various medical services. The majority of Luxembourgers (around 75%) have supplementary health insurance.
Foyer's medicis insurance offers two comprehensive, modular health insurance packages.
Share this article: