Home > Blog > Everyday > Six things to know when arriving in Luxembourg for work
Six things to know when arriving in Luxembourg for work
Salary, taxes, housing, transport and more… Starting a job in a new country always means a lot of administrative procedures and requires some time to adapt. To help you take your first professional steps in Luxembourg, here is our advice and key information to get you off to a good start.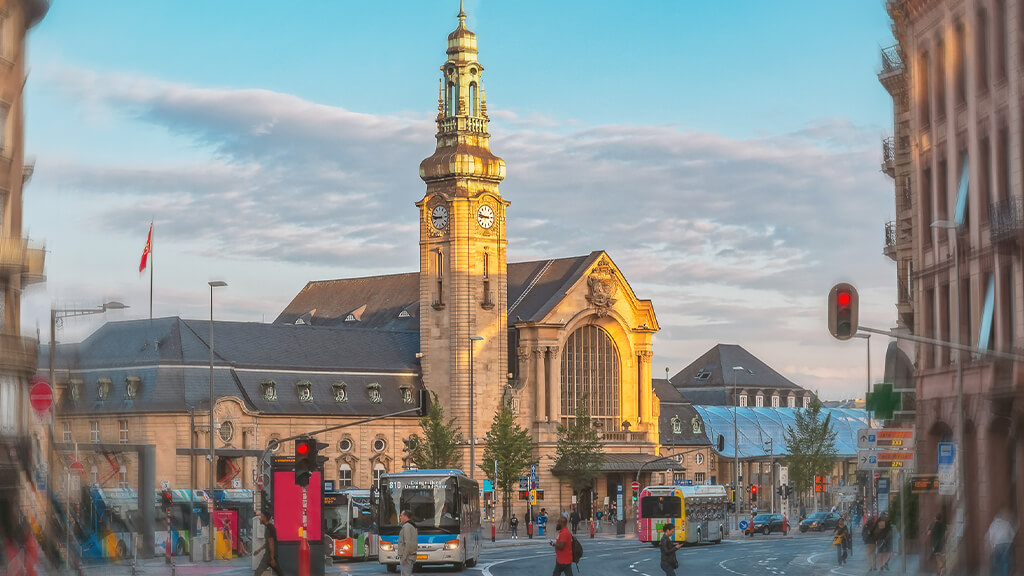 1. Job search and wages
Is it easy to find work in Luxembourg?
The figures from ADEM (National Employment Agency) are rather encouraging. The unemployment rate in July 2023 in Luxembourg was only 5.2% and the number of jobseekers increased by 13% compared to July 2022.
According to the employment agency, the service sector accounts for around 80% of jobs, mainly in the banking and financial sectors.
ADEM does not only provide statistics, it also centralises a large number of job offers. The two other most used job search sites are jobs.lu and jobfinder.lu.
What are salaries in Luxembourg?
The gross minimum social wage is set at €2,570.93/month for an unskilled worker and €3,085.11/month for a skilled worker.
The amount of salary then depends on the sector of activity, here are some of the average annual salaries in 2019 in Luxembourg:
Finance: €99,912
Services: €64,679
Industry: €53,427
Automotive: €46,939
Construction: €46,939
This brings the average gross annual salary in the Grand Duchy to €64,932. This is the highest in the European Union.
2. Your tax return and tax deductions
The online tax service allows you to calculate your tax rate according to your income and status (single, married or unmarried). Although filling your tax return is generally not compulsory, it is essential in order to benefit from your tax deductions.
Many expenses are deductible, including:
Travel expenses up to €2,574/year
Childcare up to €450/month
Household help and interest on your mortgage, up to a certain limit
3. How to find housing in Luxembourg?
We must admit, finding accommodation that meets all your specifications will be difficult. The property market is full and you will need patience, if not luck.
Buying or renting a house or flat
The two most visited real estate websites are athome.lu and immotop.lu. They are both a good place to start to see what properties are available, either for rent or for sale.
To give you an idea of property prices in Luxembourg:
The average purchase price in August 2023 was €8,457/m2 with a decrease of 3.52% compared to August 2022.
For rentals, the average cost is €25,37/m2 with an increase of 5.75% compared to August 2022. The agency fee is equivalent to one month's rent and the landlord can ask for up to three months rent as a rental guarantee. Sources: https://www.immotop.lu/prix-immobilier/
There are relocation agencies to help you find the right property and move in. Their basic service is to search for the right property for you, but they can also do administrative tasks on your behalf, such as looking for a school for your children, opening a bank account, etc.
Co-living: a temporary and practical solution
While you are waiting to find your permanent home, you can do co-living, a hybrid accommodation solution between a shared flat and a hotel room.
You share the common areas with other tenants while having your own room with a private bathroom. The rental agency arranges cleaning once a week and the cost is approximately €1,000/month.
This is a very popular solution for expatriates, who can build up a network of contacts while waiting to find permanent accommodation.
4. What insurance should you take out?
Civil liability insurance of owners' of land motor vehicles (notably cars and motorcycles) is the only compulsory insurance for individuals in Luxembourg. That said, other cover can prove to be essential.
Home insurance, whether you are owner, co-owner, renter or free lodger,is obviously highly recommended to avoid losing everything in a fire or flood, for example, and covers, where relevant, your civil liability towards the owner.
Moreover, 75% of Luxembourgers take out supplementary health insurance to obtain broader coverage and better reimbursement than the CNS (National Health Fund) offers.
Foyer offers comprehensive and flexible coverage with the mobilé car insurance and mozaik home insurance. The medicis supplementary health insurance offers a high level of services, whether for hospitalisation, dental care, visual aids or any other outpatient procedure.
5. Public transport and cars
You definitely do not need a car to travel in Luxembourg. In addition to having efficient and punctual services, the Grand Duchy is also the first country in the world to have introduced free public transport!
If you arrived with your car registered in your country of origin, you have six months to register it in Luxembourg. The registration procedure is done online, the technical inspection of your vehicle must be in order and you must acquire a €50 tax stamp ("droit de chancellerie").
6. Is learning Luxembourgish compulsory for work?
Luxembourgish is one of the country's three official languages, in addition to French and German. A 2018 Eurostat study revealed that more than half of the population speaks three foreign languages.
Depending on the sector, Luxembourgish may not be necessary. That said, learning the local language will help you to integrate into the country better.
Many municipalities offer free classes and private companies receive subsidies to offer Luxembourgish courses to their employees. So, zéckt net! (Do not hesitate!)
The newcomer's guide
Do you still have questions? Our newcomer's guide will answer most of your questions. You can also consult our article summarising six administrative steps to take in Luxembourg when you arrive.
Share this article: