Kaskou, the game on prevention and safety
Falls, burns, the dangers of water and more seriously drowning, poisoning and suffocation, together with road accidents. Accidents in the home and during leisure activities affect many people in Luxembourg and Europe and the proportion of children among the victims is alarming. As a consequence of this sad reality, Foyer is keen to play an active role as a socially responsible company within the role of risk prevention.

What could be a creative and effective method of illustrating and teaching awareness to our children and from an early too – well, what could be better than a game to show them the hazards of everyday life.
What is "Kaskou, pass op!"?
Kaskou, pass op is a cooperative family game raising awareness of the hazards of everyday life, but also it offers advice about food, health and the environment for adopting a healthy and responsible lifestyle.
In a fun way, you have to show Kaskou (the main daredevil character in the game) the best way to behave and earn him 6 prizes before he falls off his skateboard track.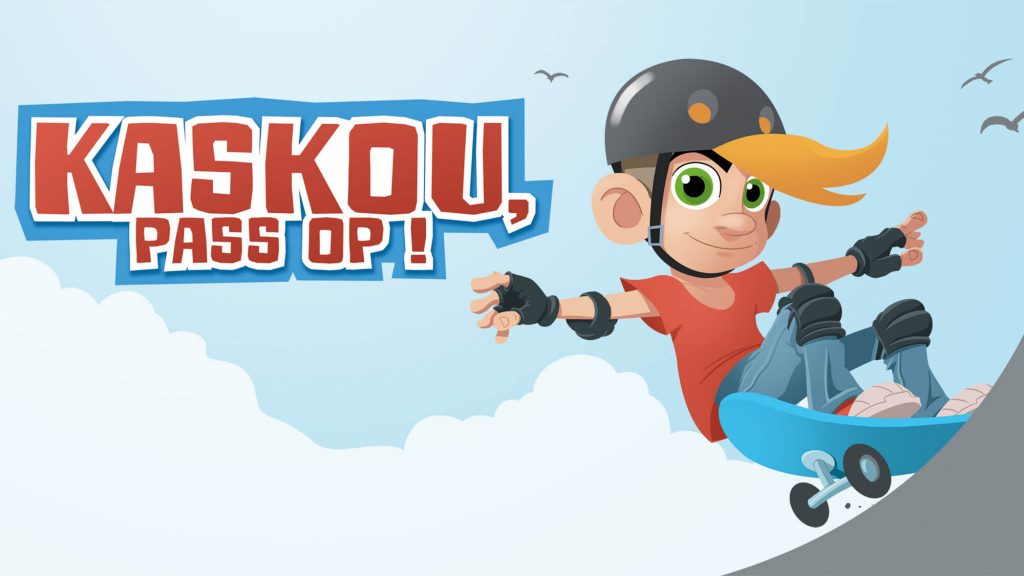 …but who is Kaskou?
He is a small boy, 9 years old and very reckless. He likes to defy everyday dangers, whether at home, on the way to and from school, or on holiday. He likes to test the limits and he does not always listen to what he is told…but he is counting on you and his pals to help him to change and take the right attitude.
So who are Kaskou's friends?
They are great mates who work together to show Kaskou safe habits to adopt in his everyday life and consequently how to avoid danger.
Matt knows the latest tech inside out and backwards, and loves testing out new things. However he does not overdo screentime that cuts us off from the real world and our family and friends.
Mia is bubbly and always looking for new experiences. She loves trying out new sports but always warms up first and make sure she has the right equipment. Preparation is essential to prevent accidents when doing sport or playing.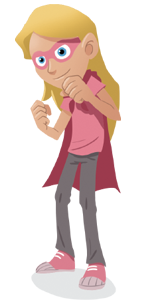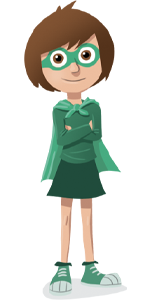 Zoé loves gardening with her parents and in the school's learning garden. She is always trying to cut out wastage and teaching her little brother to respect the environment and save energy.
Jules loves cooking. A good lifestyle includes a good diet, so you can rely on him.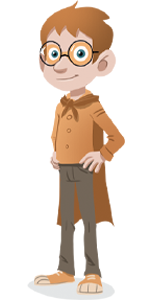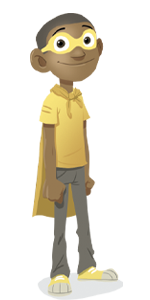 Charly is always on his bike, taking on the challenge of the surrounding lanes and roads to go to school or see his mates. He knows all there is to know about the Highway Code!
Maya inherited her dad's passion for DIY. She loves to test and experiment her artistic abilities with various creative activities. She takes care to read all the instructions before doing anything and she definitely does not touch anything without asking her parents.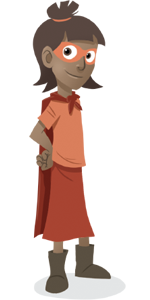 What does "the hazards of everyday life" mean?
Hazards found in the home
Dangers on the road
Accidents from sport and leisure activities
Screen addiction
Poor lifestyle
Lack of care for the environment

The role of Foyer and Kaskou
Foyer intends to help parents in a fun way, using the Kaskou character, to encourage good habits into their children. Learning by playing helps children make sense of the world around them, put their ideas into practice and learn from their mistakes.
If you want to share in the adventure and save Kaskou, contact your Foyer agent and get your own "Kaskou, pass op!" game.
Share this article: