Camper van travel
To escape the routine and find adventure around the corner, camper vans are second to none. Thanks to them, it is easy to combine freedom, discovery and comfort. Another major advantage, camper vans come in all shapes and sizes, according to everyone's wishes. For 2 days or 2 months, in luxury or minimalist mode, with the family or for romance, it goes with whatever you want! Tempted by the experience? Here are some tips for getting the most out of your trip.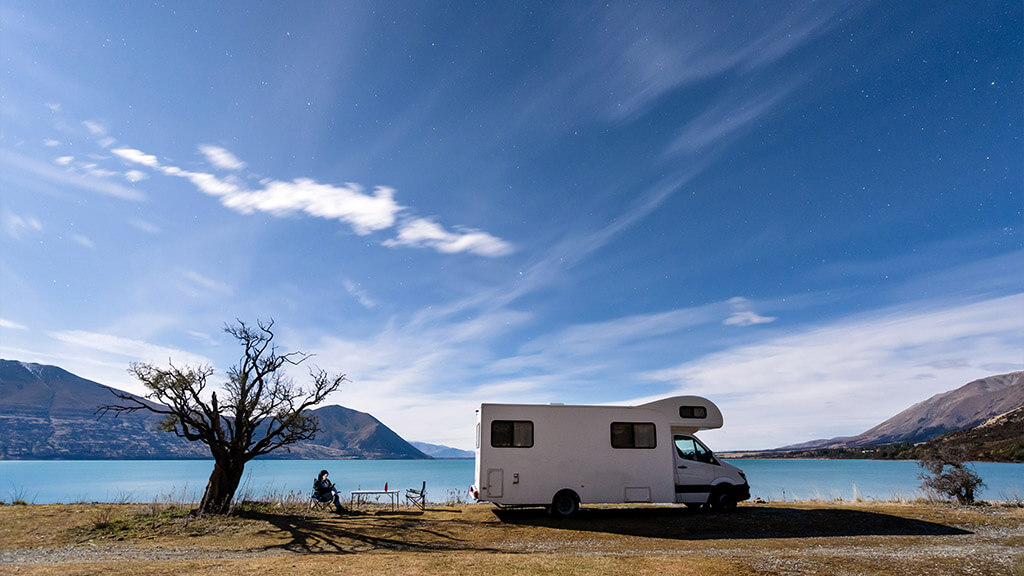 Which camper van to choose?
There are several types of camper vans, which could be summarised in two main categories:
Traditional camper vans (complete, streamlined): spacious and comfortable, they are suitable for large families. They can be more cumbersome, they will find their place more easily in campsites and areas dedicated to camper vans.
Converted trucks and vans: models with a lifting roof (the famous VW vans) or traditional (generally maxi vans such as the Fiat Ducato or Citroën Jumper), fitted out by oneself or as standard. Smaller, they are easier to handle and often reassure beginners. They are also more unobtrusive, which is convenient for travelling off the beaten track.
Finding your marks for safe driving
The usual B license is sufficient to drive a traditional camper van or a converted van, provided that the maximum authorized mass (MAM) is less than 3.5 tonnes. If the MAM is between 3.5 and 7.5 tonnes, then you will need a C1 driving license.
Bold and rather impressive due to its volume, the driving sensations of the camper van are still close to driving a car. It is therefore within your reach, even more so if you follow these few tips to prepare for your first outing:
Keep the dimensions of your vehicle in mind. The width for narrow areas, the length for overtaking and of course the height for tunnels and bridges, etc. Often, you can count on signs that warn you… but not always! Tree branches, balconies and other tall obstacles can also surprise you and cause damage.
Be careful with turns and manoeuvres. Narrow turns should be taken wider so that the wheels do not touch the curb.Camper vans require you to manage manoeuvres without a rear view mirror. Some are equipped with a reversing camera. Otherwise, ask a passenger to get out and guide you. The distance between the rear wheels and the bumper is longer than on a car, the indications of the camera or your guide will be invaluable to help you park. A bit of practice exercises before your first trip should help, too.
Anticipate braking. In a heavier vehicle like a camper van, you will need a longer distance to stop. In addition to extending safety distances, also anticipate the behaviour of other drivers and obstacles. Be particularly slow when going over speed humps to avoid hitting the chassis or the exhaust.
Beware of the wind. Height means catching the wind. The vehicle may wobble when passing a truck or when it is windy. Adapt your speed to the weather conditions.
Stay alert. It is often after a few days on the road that the first accidents occur, when we have gained confidence and let our guard down.
Safety does not only concern the driver but also their passengers:
Each must be seated, buckled in (no question of taking advantage on a long trip and to sit or sleep in the camper van bed when travelling .
In front, the passenger should refrain from putting their feet on the dashboard: In the event of emergency braking or an accident, such behaviour can have serious consequences.
Prepare for your trip
What are the differences in the highway code?
Rules of conduct vary from country to country within the European Union. A glance at the "Abroad" site allows you to quickly get up to date and avoid fines.
Choosing stopover locations
Whether you're a supporter of planning, alternatively you prefer improvisation, you will benefit from planning your nights to avoid unpleasant surprises.
To park, the parking rules are the same as for other vehicles. However, that doesn't give you the right to camp just anywhere. In other words, it's OK to stop (including for one night) but no question of taking out your wheel chocks, awning and furniture. That said, there are plenty of options for camping:
the free motorway services (they are widely listed, especially for Luxembourg),
campsites with an area designed for camper vans,
specific networks like Camper Car Park.
These three types of places have the advantage of being equipped to empty your camper van (toilets and used water).
For those who want to think outside the box, also consider:
all the nice places where it is allowed to park overnight, listed on the essential app Park4night,
with residents: using the HomeCamper platform, individuals make their premises available for one or more nights.
Verifications before leaving
Make sure not to exceed the vehicle's cargo capacity. It is also called the payload, it is indicated on the registration certificate and varies from one camper van to another. It represents the cap for counting passengers, luggage and optional camper van equipment (awning, sunroof, etc.).
In addition to the usual checks (oil, brake fluid, coolant), pay particular attention to tyre pressure and wear. These will receive much more abuse than with your usual car. So count on 4.5 to 5.5 bars, opt for nitrogen inflation rather than with oxygen and use metal valve stems.
The load is well distributed: do not unbalance the vehicle to one side, to the front or to the rear. This will improve stability and limit tyre wear.
All is properly arranged and secure: when the camper van is moving, everything moves and an object flying through the passenger compartment can do serious damage. In the event of a collision, speed can turn a normal Italian coffee maker into a formidable weapon. So check before leaving that everything is in its place and the cupboard doors properly closed.
Keep the vehicle's autonomy in mind
You are used to checking the fuel gauge, also think about the gauges on your equipment. What are your water, electricity and gas reserves?
The consumption of water varies greatly from person to person. There is on average between 7 and 25L per day and per person, while remaining very reasonable in terms of showers.
As for electricity, this also varies according to your equipment (microwave, television, etc.) and the season (short, cold days in winter). More and more campers are equipping themselves with photovoltaic panels. Also think about regularly recharging your battery by driving regularly or by recharging it on 220v.
As for gas, it can be used for cooking as well as for powering the fridge, the water heater or heating. Make sure you always have an extra bottle available to avoid unpleasant surprises.
Rent or buy?
Just as interest in nomadic vacations skyrockets, camper van rental is also developing. With professional companies or between individuals, this option is ideal for enjoying only the good aspects of itinerant camping. Reserve, use, return… and start over. No investment or risk taking for the acquisition, no administrative formalities, no hassle to store the camper van between two trips.
Was your first road trip a success and you are tempted to take it up a notch? Purchasing the vehicle will be worthwhile from the moment you are sufficiently available to take advantage of it, or if you rent it out. A time-share purchase with other owners might also be of interest to you. This is an option offered, for example by Camper Quart: share in a purchase so that it is cheaper and avoid dealing with the usual hassles (wintering, etc.).
Whichever option you choose, you will still need clearly clarify your needs and priorities to determine the model that will suit you best: the number of travellers, the period and duration of the trip, the budget but also the types of equipment? New or used? At a dealership or from an individual?
In the event of a purchase, also remember to insure your vehicle, there are specific covers for camper vans, ask advice to your agent.
Share this article: