Home > Blog > Mobility > Bicycle accident: who pays for the damage?
Bicycle accident: who pays for the damage?
When you go out cycling, you should of course take all the necessary safety equipment with you. All the more so, because in the eyes of the law you are classed as the weaker user and more vulnerable then motorists. However, what happens if there is an accident? Who is liable? Who compensates whom and what insurance do I need?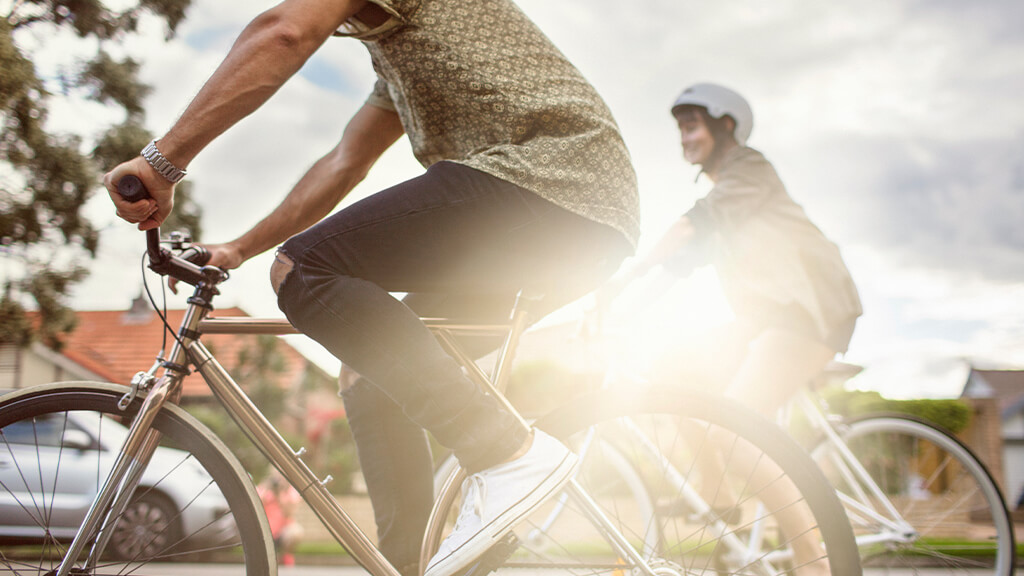 4 scenarios
Assigning liability depends on the nature of the accident, the nature of your journey and the vehicles involved. Depending on the case, the damage may be covered by third-party liability motor insurance, supplementary health insurance, insurance against accidents in everyday life or even work accident insurance.
The accident that involves only youself
There are a thousand reasons for a fall: a defect in the road, an error of inattention, avoiding an obstacle… and two types of damage: injuries and damage to the bicycle.
For injuries and medical care, social security will be the first to come into play, followed by your complementary health insurance.
In the event of a serious accident, a personal accident insurance policy will ensure you are better compensated (the amount received is calculated according to the percentage of invalidity).
If your bicycle has been damaged, only a bicycle or leisure items insurance policy can compensate for this.
The accident occurs on the way to work or school
An accident that occurs on your way to work or school can be compensated by the work accident insurance of the company or school concerned. In France and Belgium, this will cover medical costs instead of the combination of social security and complementary health insurance.
In Luxembourg, the employer or the head of the school must submit a declaration to the Association d'Assurance Accident (Accident Insurance Association – AAA).
An accident involving a motor vehicle
As we said above, the law considers cyclists as the weaker road users. This gives you greater legal protection.
In the event of an accident involving a car, your medical expenses and material /property damage are usually covered by the driver's insurance, even when you are at fault.
However, if you are at fault, the damage caused to the bicycle will not be reimbursed by the other insurance company. You will also have to compensate the driver if his or her vehicle is damaged, unless you have third-party liability insurance, which will pay those costs for you.
If the driver of the vehicle is not insured, you can apply to Luxembourg's Fonds de Garantie Automobile (Automobile Guarantee Fund) for compensation.
An accident involving a cyclist or pedestrian
In this case, you are both weaker users. The insurance company that will pay will be that of the party deemed responsible.
If you are at fault, it is you (or your third-party liability insurance, if you have it) who will have to repair the damage caused to others. If not, it will be up to the other party or their third-party liability insurance to compensate you.
Who pays for damage to your bicycle?
It will be up to the person responsible for the accident to cover the cost of repairing or replacing your bicycle.
If it's the other person, it's easy. However, if you are responsible for the accident, you will have to pay out of your own pocket. Unless you have a leisure items insurance policy. This type of insurance covers not only accidents, but also theft and other damage.
Adopt the right reflexes in case of an accident
If people are injured and need immediate assistance, call the emergency services. However, be aware that insurance companies may not reimburse the cost of the ambulance journey if the victim's condition did not justify it.
Always remember to take photographs of any physical or material damage suffered or caused. These pictures can be used as evidence. Even if there are no injuries or apparent damage, it is safer to fill in an amicable report.
If you feel that the other party is being uncooperative, call the police, who will take care of the accident case. You can also file a complaint for hit-and-run or dangerous behaviour if necessary.
If you feel pain later, do not delay and go to your doctor to have it checked. In any case, keep all the official documents you have obtained, as these may be requested by the various insurance companies.
Ride with peace of mind with Foyer insurance
Do you want to ride with peace of mind or protect your equipment? A specific insurance policy for cycling may be of use. Foyer offers several such insurance policies:
To protect equipment, the leisure items option can be taken out with mozaïk home insurance. It covers not only conventional and electric bicycles, but also all means of alternative mobility (scooters, segways, etc.) up to €20,000.
To protect individuals, the private accident option can also be taken out with mozaïk insurance. It provides accident insurance for all members of the household (the limit is chosen by the customer, i.e. €250,000 or €1,250,000), and compensates for the loss suffered as a result of bodily injury or death of the insured person, irrespective of who is liable.
To protect yourself from the financial consequences of your liability, the Private Liability option can also be taken out with mozaïk insurance, in the event of bodily injury or material damage caused to third parties.
The protected driver option of Foyer's mobilé motor insurance is another possible choice. This protects the driver(s) named in the policy across all modes of travel (bicycle, scooter, public transport, etc.).
Share this article: