Home > Blog > Mobility > Autofestival prize draw: a Foyer client wins the value of their vehicle and a year's mobilé insurance
Autofestival prize draw: a Foyer client wins the value of their vehicle and a year's mobilé insurance
What better time that the Autofestival to change vehicle?
Earlier this year, Foyer wanted to mark the occasion of the opening of Autofestival, back on 22 January and launch its grand prize draw.
The prize draw enabled 10 people to win one year's mobilé insurance, with draws taking place over the duration of the competition period. Also at the end of the competition, one person could win the value of their vehicle and one year's mobilé insurance.
This prize draw was open to all prospects and clients who had asked for a quote or taken out a motor insurance policy for their vehicle purchased up to 30.06.20. However due to the lockdown, the competition was extended to 31 August, enabling everyone to be able to get their vehicle and start their insurance.
More than 2,300 people tried their luck!
The lucky winner of the value of her vehicle and one year's mobilé insurance was Isabelle Resch, aged 18.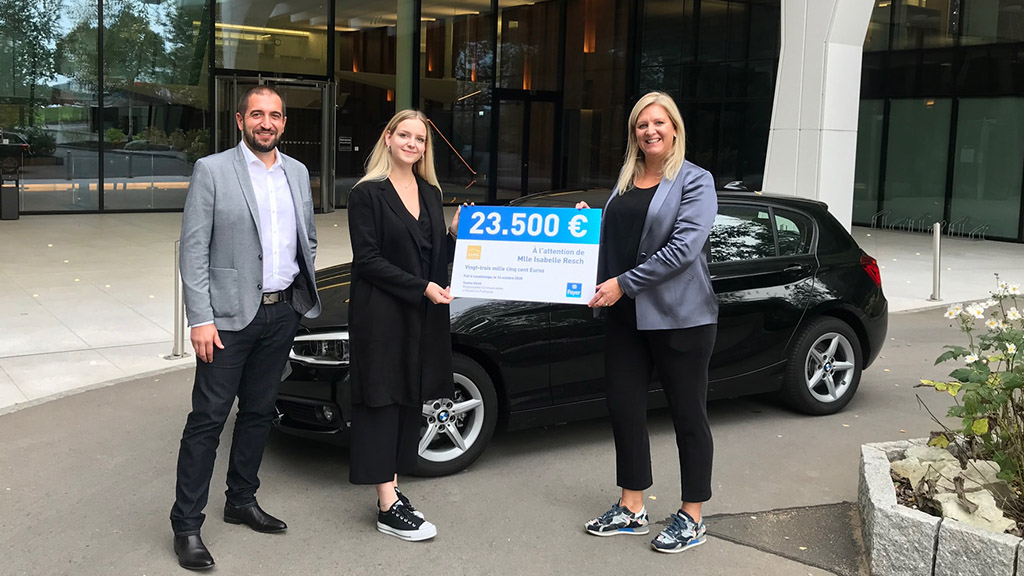 Accompanied by her agent Daniel Santos, Isabelle was awarded her prize in October at Foyer's head office by Sophie Haas, Head of Communications and Public Relations.
Share this article: