Home > Blog > Home > Portable heaters: beware of fire!
Portable heaters: beware of fire!
Portable heaters are very effective at quickly heating up a room and are very useful in a bathroom, guest room or office, especially when working from home. Whether it's electric, gas or the old traditional paraffin, their use nevertheless entails some risk – the number one being fire. A few simple precautions will ensure you avoid accidents, while staying warm and cosy. Follow this guide!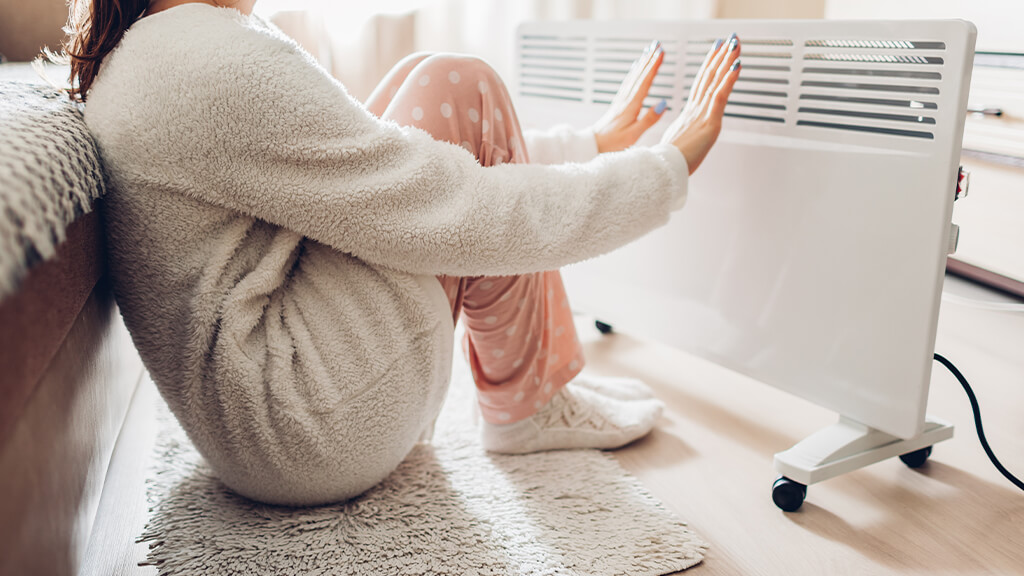 Every year at the start of winter, firefighters see an increase in fires caused by mobile heaters. These are mainly due to incorrect use, negligent installation or inadequate space around the appliance. However, these incidents are easily avoidable, provided you take a few basic precautions.
Choosing the right portable heater
Beware of second-hand or very cheap heaters: their history can sometimes be doubtful and there is a good chance they are not up to current safety standards. In many cases they also consume more energy. It is therefore better to invest in a new appliance, by contacting specialists to advise you.
In any case, check that the appliance's label bears the CE mark. This guarantees that the system meets safety and quality standards established by European Union legislation. Other national or international safety standards may apply, depending on the type of fuel or energy (gas, paraffin, electric, etc.) – ask a professional.
Mobile heaters are often lightweight and therefore tip over easily. Make sure the appliance has a tip-over protection system, which switches it off as soon as it falls over.
Be careful where and how you install it!
The heating power of a mobile appliance is often underestimated. However, there is a real risk of nearby curtains or a carpet, sofa, waste-paper basket or even wooden furniture suddenly catching fire… you must therefore always ensure that your mobile heater is placed away from any flammable material, including walls.
Allow at least one meter of space around and above the appliance and avoid placing it in small rooms that are cluttered or poorly ventilated.
Check that the appliance is stable and not at risk of falling. Do not suspend it or place it at height, for example. Many fires start due to the appliance accidentally falling over, especially around children or pets.
Always plug electric heaters directly into a wall socket. Never use an extension lead or multi-socket adaptor, which could cause the system to overheat and start a fire. Also check that the circuit-breaker on the circuit to which you are connecting the appliance has sufficient amperage.
Can I move my mobile heater? Of course, that's what it's designed for! But never try to move it when it is switched on and wait for it to cool down to avoid any nasty surprises. Keep it upright and handle with care or you could cause a leak!
N.B. Not all mobile heaters are suitable for bathrooms. Electricity and moisture are a bad combination! Tell the seller if you plan to use your appliance in a shower room.
Some precautions for "safe" use
Fuel:
Butane, propane or paraffin… Every heater is made for a specific fuel: always follow the manufacturer's recommendations.
Only fill the appliance when it is switched off and cold.
Don't leave the paraffin container or gas cylinder near the appliance!
Avoid prolonged use!
Mobile heaters are designed for occasional use and not as the main heating system – not to mention the cost…
Never leave the appliance switched on when unattended, especially around children. Switch it off at night and whenever you leave home.
Some final tips:
Ventilate the room by airing it for at least 10 minutes a day
A mobile heater is not a clothes dryer: don't put anything on it, especially not fabrics.
Have your mobile heater checked and serviced annually by a professional.
And, of course, make sure you have enough fire detectors in every area of ​​your home!
Share this article: