Home > Blog > Everyday > Tips for a cosy and safe Christmas
Tips for a cosy and safe Christmas
Christmas is approaching and all the decorations have been brought up from the cellar and down from the attic. Christmas trees, mantels and window sills are probably covered with glitter and lights. As an insurer, it is our duty to remind you of certain precautions that will enable you to enjoy the holidays with peace of mind.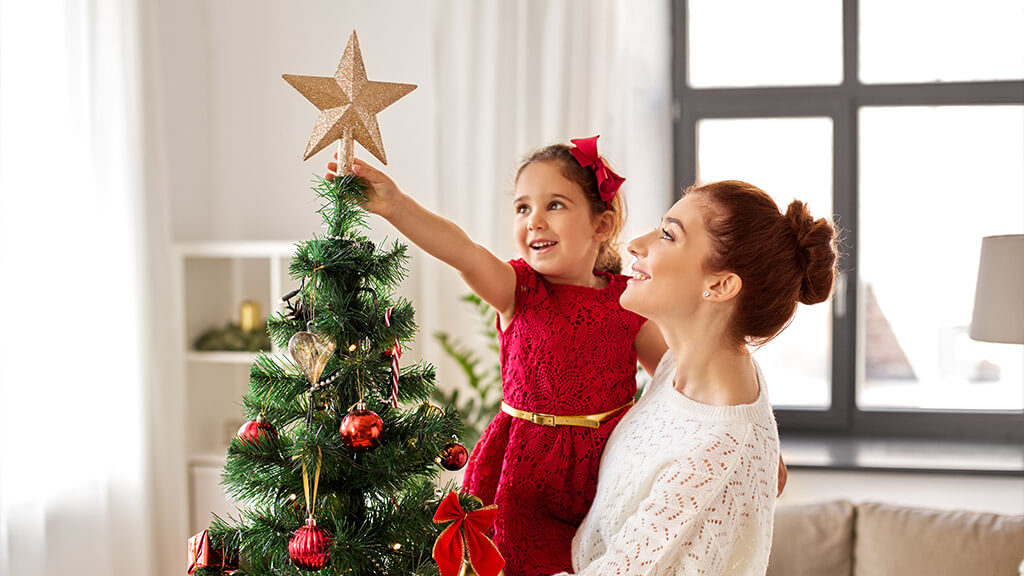 The Christmas tree
It is the essential ingredient, the centrepiece of Christmas. Everyone wants their tree to attract attention and compliments. Some like a natural tree, while others prefer artificial. In both cases, the tree is flammable and deserves some attention.
If your tree is artificial, be sure it is fireproofed. If you have a real tree, keep it fresh as long as possible. You can, for example, pot it in a little sand or soil and water it from time to time.
Choose a location that showcases the beauty of your tree while keeping everyone safe:
a room with a fire detector installed.
away from any heat source (stove, fireplace, etc.)
away from curtains or a bookcase that could spread flames very quickly if the tree caught fire.
The tree should not obstruct access to doors or windows which are critical to evacuation in the event of fire.
Double-check the stability of your tree. If it falls, it could come into contact with the flame of a candle or other heat source capable of starting a fire.
Lighted garlands
More and more of them can be found everywhere you look and some are even battery-powered. These tiny lights create a soft, warm ambiance on long winter evenings.
First, be sure that your fairy lights carry the CE mark, which guarantees compliance with European safety standards. Next, opt for LEDs, which make up the majority of the market today. They heat up less, use a lower voltage and are sturdier than filament bulbs.
The transformer of a traditional garland also produces heat and should be placed in a safe place, away from the Christmas tree and any other flammable materials.
When installing a string of bulbs, inspect it carefully to ensure that all bulbs are screwed in securely. If the wiring is worn out or there are short circuits or overheating, the fairy lights need to be retired. Instead of taking a risk, replace them.
Finally, remember to turn off the lights when you leave the house or go to sleep.
Candles
Their small, flickering and warm flames complete the Christmas atmosphere. As these are real fires, you should obviously place them out of reach of children and at a good distance from any flammable object (at least 50 cm). Also make sure they are positioned on stable, heat-resistant surfaces.
Some candles are decorated with paper and ribbons. Others have an outer layer of bark. These highly flammable materials increase the risk of fire and burns, especially if the wax overheats and catches fire. Candles, therefore, require your full attention and should only be used in your presence.
When an accident happens
If, despite all your precautions, a fire breaks out, keep your composure and call 112.
To extinguish an electrical fire, turn off the power, use a fire blanket to smother the flames and a CO2 or dry powder extinguisher. Do not use water or water fire extinguishers.
Finally, we remind you to activate your MyFoyer space and download the MyFoyer app on your smartphone. These will enable you to report your electrical damage claim in a few minutes.
Share this article: