Home > Blog > Everyday > Child car seats: how to ensure your child is as safe as possible
Child car seats: how to ensure your child is as safe as possible
Putting your child in the car is an ordinary everyday action which nevertheless requires a certain degree of caution. What should you look for in a car seat and what regulations should be followed to ensure family journeys are as safe as possible?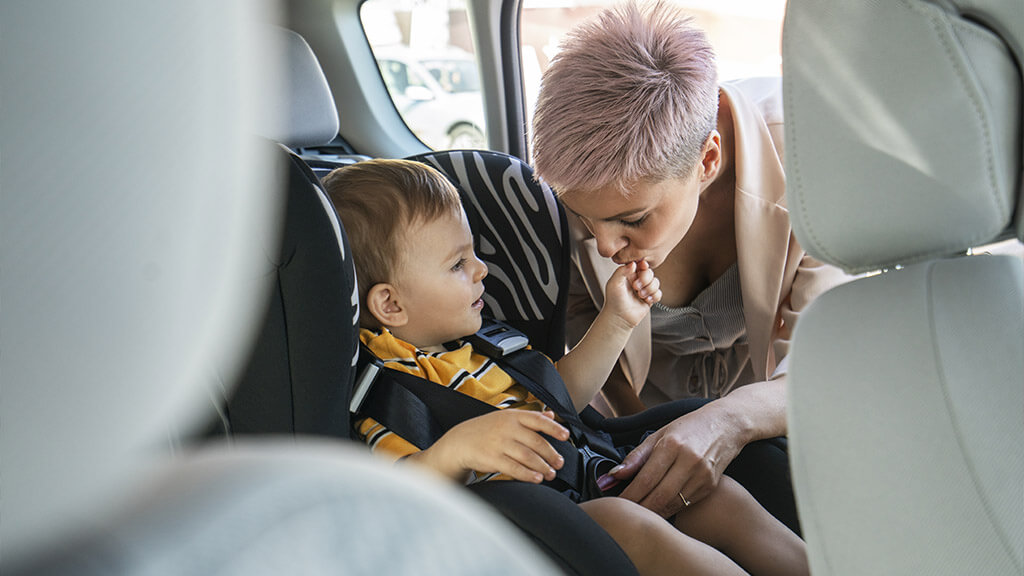 What does the law say in Luxembourg?
The law calls them special restraint systems (SRS). These are child car seats, baby carriers, booster seats and all the ways of making a car safer for babies and children.
In the Grand Duchy of Luxembourg, the highway code requires you to use these SRS to transport children under 1.5 m tall. Failure to do so can result in you losing two licence points and paying a €145 fine.
These are strict regulations. The only very limited exceptions for transporting a child without special restraint systems.
How to choose a good car seat
There are car seats at all price levels, from €50 to €500. There is a huge range on offer… and they're not all as good as each other. Here are some tips to give you a clearer picture and help you make the safest choices.
Roughly speaking, it is assumed that a child will use three seat models over twelve years. The child's height and weight determine when you move on from one seat to the next:
Baby carriers: suitable for children from 40-45 cm to 75-87 cm tall, weighing a maximum of 12-13 kg. To know when to change, you should of course comply with the weight limit, but you should also look at the level of the baby's head (once it reaches the upper edge of the baby carrier) and the level of the harness, which should be level with or just below the shoulder.
Second category regarding car seats for children: they fit children from 61-76 cm to 105 cm tall, weighing up to 18 or even 23 kg
Booster seats with or without a backrest: for taller children who are between 100 and 150 cm tall and weigh more than 23 kg.
There are a few key options to choose from when buying a car seat, all of which have their advantages:
adjustable and non-adjustable models: some models can be adjusted as your child grows and mean you only have to invest in two seats rather than three. For the first few months, it is still advisable to choose a model that is 100% baby friendly.
rear- or forward-facing: rear-facing seats for travel is compulsory up to 15 months, then possible up to 18 kg or 105 cm.
with or without Isofix connectors: these connectors will be useful if your car is fitted with this system. Attaching and detaching the car seat is generally much easier and quicker than with the seat belt.
a seat with a safety harness or impact shield: this choice will depend mainly on your toddler. Shields may be safer, but some children do not like them at all.
The two current standards R44 or R129 (also called i-Size standard):
| | | |
| --- | --- | --- |
| Standard | R 44/04 | R 129 i-Size |
| Entry into force | 1982 | 2013 |
| Concerning | seats that are attached with the seatbelt | seats that are attached with Isofix (with or without support leg) |
| Categorisation | 5 seat groups based on the child's weight | 4 seat categories based on the size of the child and a maximum weight |
| Special feature | – | Rear-facing travel compulsory up to 15 months |
Demand better than the minimum
In addition to being compliant, the car seats also undergo independent crash-testing. These tests assess safety, of course, but also user-friendliness, comfort and amounts of harmful substances (such as phthalates or heavy metals).
The quality of the seats is continuously improving, yet every year the tests show up seats that are "not recommended". It is not necessarily the cheapest ones that are at the bottom of the ranking, and the brands that have won the most awards are not immune to having one of their models rated poorly.
The ratings are available free of charge, for example on the German ADAC website.
If you want to make the safest choices, here are some more options that make a big difference:
Keep to the rear-facing position for as long as possible.
In the event of an accident, a child placed in a rear-facing position will sink into the seat rather than being thrown forward. That makes a big difference to their neck! In an accident at 50 km/h, the force of the impact is similar to a fall from the third floor. A 15 kg child will be thrown forwards with a force of 150 kg. Facing forwards, the weight exerted on the neck will be 300 kg, whereas facing towards the rear, the weight exerted on the neck will be only 50 kg. The risk of severe injury is divided by 5: 40% risk if facing forwards, 8% if travelling rear facing.
Use a booster seat with a backrest.
Many brands now only offer this version. In the event of a side impact, the backrest will absorb a large proportion of the energy released towards the head and upper body. The backrest also has the advantage of supporting your child's head when they fall asleep, rather than letting it slide onto the window. It's more comfortable and safer if an accident happens.
There are so many advantages: you will receive a guarantee from the seller, you can include this equipment in your motor insurance and, above all, you can be absolutely sure that this seat has not been involved in any accidents. Even at low speeds, a collision can cause unseen damage to the car seat and reduce its performance. Even without any accidents, the recommended life span of a SRS is ten years. Beyond that, the materials are considered to be worn out and the seat no longer as safe.
Everyday vigilance
Seats are becoming more and more efficient, families are becoming more and more safety conscious and yet it is estimated that only 3 out of 10 children are seated correctly. Even with the best of systems, if your child is not restrained properly, they are still at risk.
Pay particular attention to the installation of the safety harness. It should not be twisted and must be tight, with no more than 1 cm of space between it and your child's shoulder. If you can fit three fingers between the strap and your child, there is a risk of ejection.
As your child grows, check that the booster seat headrest (the top part of the seat) fits properly. It is advisable to leave a gap of 2 fingers between the bottom of the headrest and the child's shoulder: close enough to encompass the head, but leaving the shoulders free.
In winter, get into the habit of removing your child's coat or oversuit before putting them into the seat and make sure the harness is adjusted as close to their body as possible. These layers of fabric give the impression that it is correctly adjusted, whereas in the event of an impact, the fabric compresses and leaves room for your child to be thrown around. With a booster seat, the coat can also interfere with the seat belt being correctly placed. If incorrectly placed, it will compress the abdomen in the event of an accident and injure organs such as the liver, spleen or kidneys. Instead of a coat, you can use a poncho or a small blanket that can be placed over the harness.
Share this article: