Home > Blog > News > 36th Foyer Triathlon International Echternach
36th Foyer Triathlon International Echternach
Since 2003, Foyer has been proud to support Triathlon International Echternach, which is organised by Trilux, the Triathlon Club of Luxembourg, and which takes place this year on Saturday, 2 July 2022, at the Echternach Recreational Centre.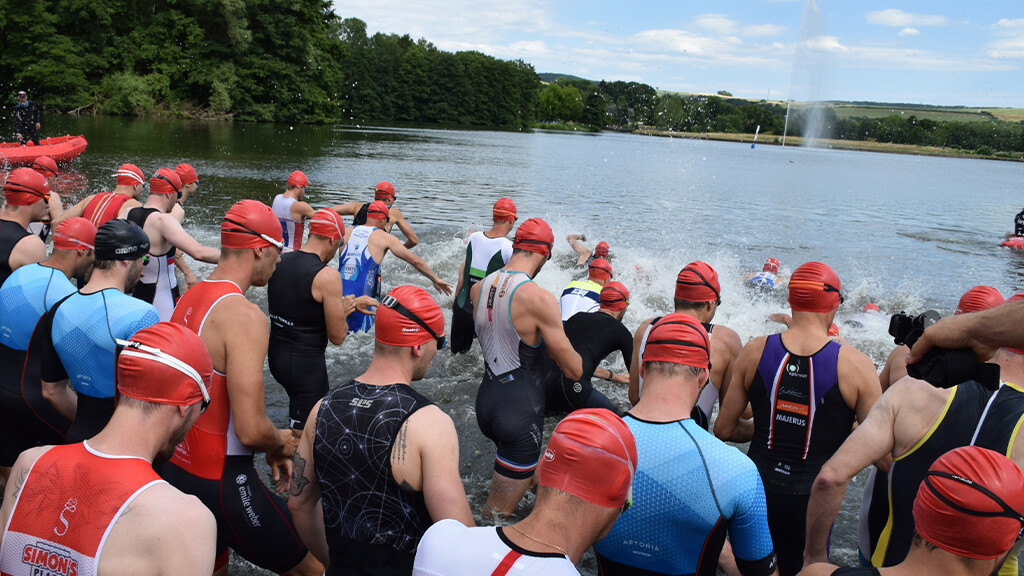 This event brings together athletes of all levels. Triathlon enthusiasts can indulge in their passion for swimming, running, and cycling around Lake Echternach. It's a must for national and international athletes, but also for juniors, families and companies, as well as the Gesondheetslaaf, an untimed 5 km health run organized by Fondation Cancer.
5 races are offered:
Kids Triathlon
Youth Triathlon
International Triathlon
Team Relay Triathlon
5km Health Run
This comes from a desire not to limit the event to the elite level, but to open up to a broader audience of basic triathletes, while maintaining the international nature of the event. The start for 1.5 km of swimming, 40 km of cycling, and 10 km of running. The start for this 36th edition will be at 4:45 p.m. for men, and 4:48 p.m. for women.
So, a sporting weekend awaits you at Echternach. Come challenge your endurance as a family, or simply support the athletes.
For more information about other races, scheduling and registration conditions for the various competitions, go to www.trilux.lu
Schedule
10:30 a.m. FOYER Kids TRIATHLON
100 m/4 km/1 km
Kids B born in 2013/2014
Kids A born in 2011/2012
11:00 a.m. FOYER Youth TRIATHLON
300 m/8 km/2.5 km
Youth C born in 2009/2010
Youth B born in 2007/2008
11:45 a.m. Awards Ceremony
1:30 p.m. FOYER Junior/Youth A/SPRINT TRIATHLON National Championship
750 m/20 km/5 km
Youth A born in 2005/2006
Juniors born in 2003/2004
Sprint > 15 years old  
1:33 p.m. FOYER TEAM TRIATHLON FAMILLES and INTER-COMPANY TEAMS
750 m/20 km/5 km
Relay teams of 3 athletes                                                                 
3:00 p.m. GESONDHEETSLAAF VUN DER FONDATION CANCER MAT DEN "SPORTS GROUPS FOR PEOPLE WITH CANCER"
5 km
(free and untimed)
3:30 p.m. Awards Ceremony
4:45 p.m. 36th FOYER TRIATHLON INTERNATIONAL ECHTERNACH
1.5 km/40 km/10 km
Men's start                 4:45 p.m.
Women's start            4:48 p.m.                   
8:00 p.m. Awards Ceremony
Share this article: