Home > Blog > Mobility > Cycling is the new trend! Suggested routes and guides
Cycling is the new trend! Suggested routes and guides
With bike sales booming across Luxembourg, we have some good news: 632 km of cycle paths await you, and we have a series of top tips to help you make the most of your two wheels!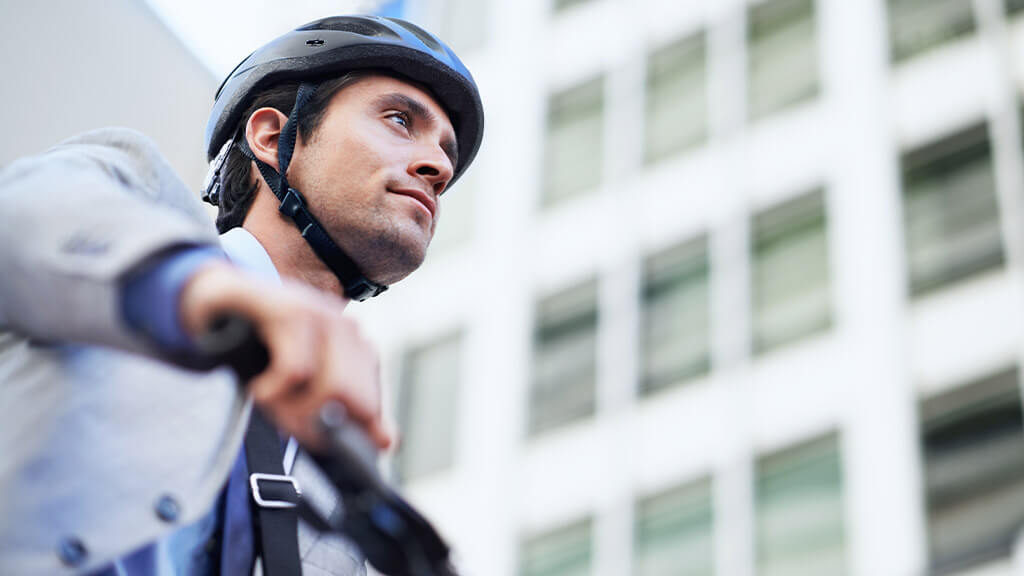 A beautiful summer, fresh air and legs that need to be stretched
Your hair's blowing in the wind (under your helmet, of course) as you ride through our breathtaking mountains and valleys under the summer sun and the shade of old oak trees. Could this scene get any better? There's nothing like cycling to reconnect us with this dream of nature, freedom and great physical shape.
As luck would have it, Luxembourg is a beautiful country where you're never far from nature. In addition, there are so many charming places to discover, from l'Ernz Blanche, to the Trois Rivières, and la Haute Sûre, to name a few. Waymarked trails… or the open road
Luxembourg currently has 632 km of cycle paths and that number is constantly evolving, with a short-term goal of reaching 900 km. If you'd like to keep yourself updated, we recommend visiting Luxembourg's Tourist Office website www.visitluxembourg.com, where you can find routes organised by theme.
The ProVélo association recently published a new set of two maps of Luxembourg's cycle path network (North and South). They are incredibly practical, highlighting the easiest routes (former railway tracks with less steep inclines), providing information about bike rental services and pointing out connecting trains.
For those with stronger calves muscles, mountain bikers or racing cyclists, the Tourist Office also offers specially suited routes. Currently, you can find 31 mountain bike trails and 15 racing bike tours at www.visitluxembourg.com.
If you're looking for a unique experience, consider VëloSummer. Proving to be a huge hit with its 40,000 participants in 2020, the initiative will be returning next year. All around the country, 65 municipalities will rally together to close off certain roads to cars and offer 12 routes for touring cyclists or hikers.
Ride, eat, sleep, ride…
Will your trip last several days? Of course, you always have campsites, but there's also a range of accommodation with the bed+bike stamp of approval.
Nearly one hundred establishments have been awarded this label. They welcome touring cyclists with open arms, which means they offer dedicated services, including the option to book just one night, providing a lockable room and a repair kit, facilities for drying your equipment and breakfast specially suited to physical exertion. All the things that really make a difference for a pleasant trip.
If travelling light, or travelling well-equipped; if this presents a dilemma for you, Move We Carry is the solution you've been waiting for. This free service handles transporting your luggage between the places where you're staying. Compromising on your comfort is now a thing of the past!
To be continued when you get back from holiday?
Ride every day and live longer
The benefits are important, this could be a calling for everyday cyclists and for those that do, they could be right to do so:
Bikes break all the urban speed records over distances of less than 5 km
There's no need to pay for parking
Regular cycling significantly increases life expectancy compared to driving a car (reducing the risk of cancer and cardiovascular disease).
Ultimately, with electric bikes becoming more accessible than they were a few years ago and with combined bike + public transport offers, these sorts of journeys are not as complicated as they once were.
Experience cycling your way
Luxembourg offers an increasing number of cyclist-friendly solutions. You have the option to travel holding onto the handlebars all the way, or you can switch between your bike and public transport.
Subject to available space, your can take your bike on Luxembourg's buses, trains, trams and even chairlifts free of charge.
mBox bike enclosures allow you to leave your bike with total peace of mind at 70 different sites ideally located close to public transport.
Security for the cyclist and for the bike
With the boom in bike use, both accidents and theft are also on the rise. The recent police campaign "Sécher mam Vëlo" aimed to prevent both of these major risks with a reminder of a few simple facts to avoid accidents:
think of others when you're riding, by obeying the Highway Code and respecting other road users
use the mandatory equipment and wear a helmet
regularly check the condition of your bike and, more specifically, the tyres, brakes, derailleur and chain
As for theft, the Grand Duchy of Luxembourg recorded 981 cases in 2021 alone. To reduce the risk: choose storage in a closed room or use a strong padlock to lock up your bike correctly in busy areas. If your bike still gets stolen, your chances of getting it back are higher if it has been registered. In fact, engraving a code on the frame will make it easier to identify the owner and also make the stolen bike less appealing when it comes to resale. The Luxembourg police also suggest using the MySafe function of their mobile app.
In addition to planning ahead, you can also cover these risks with your insurer. At Foyer, there are two options that you can add to your motor and home insurance:
To compensate for bodily injury in the event of an accident, you can choose between the "Driver injury insurance" cover of your mobilé motor insurance policy, in which case only the drivers named in the policy will be covered across all modes of travel (including electric scooters and other single-wheeled vehicles), or the "Personal injury" cover of your mozaïk home insurance, in which case all household members (including minors) living in the same home can be protected (under a family profile).
To insure the bike itself, Foyer offers "Leisure items" cover as an add-on with mozaïk home insurance. Your bike will then be insured against theft, damage, impact and falling, both in Luxembourg and abroad.
Share this article: