Home > Blog > Mobility > Collision with an animal: how to report your claim?
Collision with an animal: how to report your claim?
Deer, boars and other wild animals are frequently encountered on our roads, especially when dark falls. This is particularly true in winter, when the nights draw in, and sometimes collisions cannot be avoided.
Are you covered for this sort of event… how do you notify the insurance company and finally what are the necessary administrative procedures needed to be taken?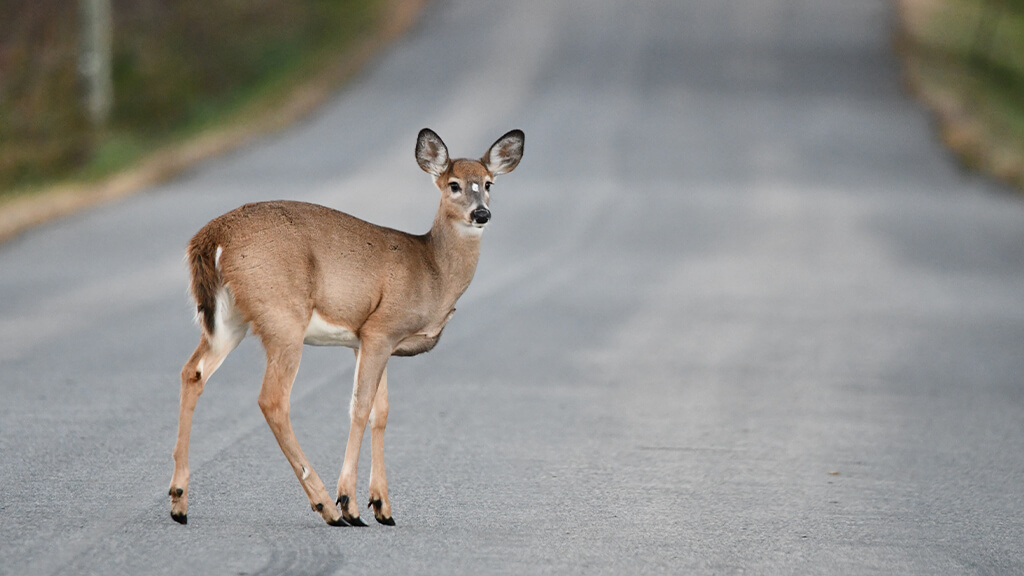 This is not something that happens only to other people. Every year, the Luxembourg police records about 1,000 road accidents caused by large wild animals. As regards to the compensation for the damage caused to your vehicle, everything depends on your insurance policy.
At Foyer, coverage in the event of collision with an animal is automatically included in the "mobilé Protection" and "mobilé Zen" packages. As part of this policy, Foyer covers material damage to the vehicle as well as rescue costs related to accidental collision with a wild or stray animal. Similarly, any personal injury may be compensated if you have taken out the "protected driver" injury cover.
Find out more about our motor insurance packages.
Are you no longer sure about the cover provided by your car insurance policy? Check your conditions in your Customer Account, on the MyFoyer app or on your printed policy at any time. Are you covered? If you have this coverage, Perfect. All you need to do now is to prepare the insurance claim.
Do you need to contact the police?
Since 1 April 2020, insurance companies no longer require a police report for an accident involving a wild animal. So you do not need to contact the authorities, unless another vehicle is involved or you are injured. The Luxembourg police may also intervene if your crashed vehicle obstructs traffic or if the animal remains on the road.
Is your vehicle immobilised? Contact Foyer 24/7 at +352. 437. 43. 123 or via your MyFoyer app by clicking on the Assistance emergency button. Our agents will make the best arrangements for repairing and recovering your vehicle.
An automotive expert will then be appointed by your insurance company to verify that the damage has been caused by an animal. Which is why it is important to establish as much evidence as you can once you have recovered from the incident.
Collecting evidence is key!
Even if your vehicle is still in perfect running order, stay where you are!
Take photos: at least one close-up of the damage to the vehicle and one of the accident scene as a whole.
If there are witnesses, collect their testimonies and keep the contact details of the people present.
Note down the precise location and time of the accident: record GPS coordinates or note the nearest milestone and provide a description of the location.
Note all the items that could be used as evidence: traces of blood, clumps of animal hair, etc.
All these items will facilitate the appraisal and your future compensation.
Tip: whatever happens, avoid touching, loading or transporting the injured or dead animal!
When and how to report the claim?
The earlier, the better! Time is of the essence: you have five to eight days to report the claim to your insurer (depending on the company; eight days at Foyer), except in the event of force majeure (hospitalisation, serious accident, etc.).
How do I report a clam? You have three solutions:
Via your MyFoyer app: the easiest and fastest!
Haven't downloaded the app yet? Call your agent,or
Contact the Foyer Auto Department by telephone on +352 437 43 2140 or by email at sinistres-auto@foyer.lu
Good to know: Foyer does not apply a claims penalty in the event of a collision with an animal, unlike other insurance companies.
And what comes next?
After the accident, you can naturally make an appointment with your garage to have your car repaired. Don't forget to keep your agent (or the Foyer Auto Department) informed of the date of the repairs.
Depending on how long the repairs take, a replacement vehicle can be made available for up to 15 days, and even up to 60 days in the event of write-off.
If you haven't already done so, now is the time to download the MyFoyer app. Totally free of charge, it will help you to easily manage all the aspects of your claim and monitor its progress in real time.
Share this article: