Home > Blog > Mobility > Charging your electric car is getting easier in Luxembourg!
Charging your electric car is getting easier in Luxembourg!
Although electric cars are becoming more popular, many Luxembourgers are still hesitant to get one. This is due to the specifics of charging vehicles, the availability of charging points, the charging time, concerns about breakdowns, etc. However, several recent developments should help to reassure those who are undecided. Let's take a closer look at the subject.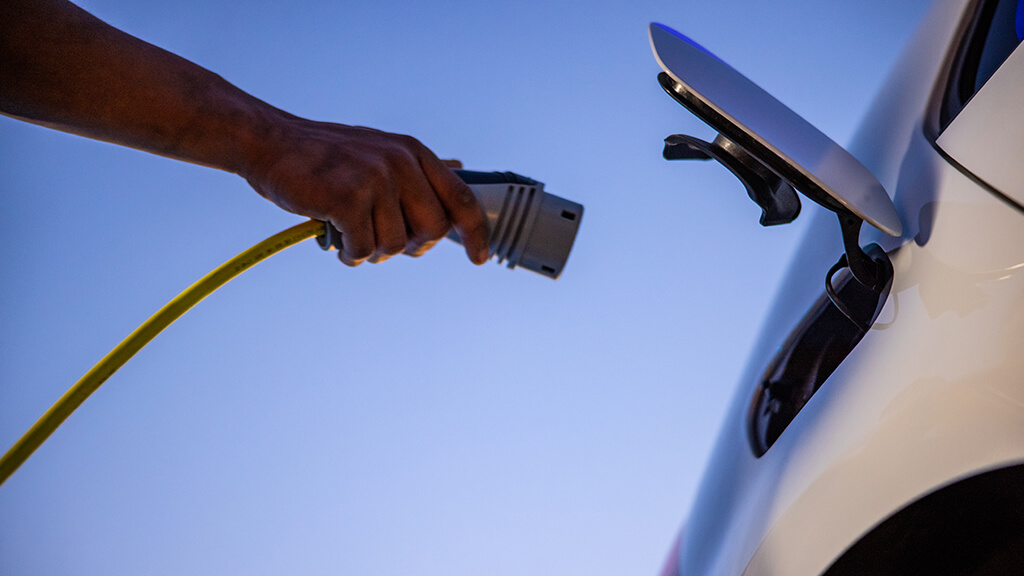 Today, more than 5% of cars on the road are electric or hybrid (all years combined). Although this might not seem like much, recent registrations show that the trend is moving in favour of electric. In 2022, one in four new vehicles had an electric or plug-in hybrid engine! The government plans on speeding up this transition by making this new mode of transport more affordable at all levels and developing the infrastructure.
Good to know: Thanks to the extension of the Grand-Ducal "Clever fueren" plan, you can still get a bonus of up to €8,000 when buying a "clean" vehicle until 31 March 2024. Information and conditions are available on the government website.
The network of charging points is growing!
The development of the charging point network is accelerating, to the extent that they're becoming increasingly common in both public and private places: public car parks, motorway service areas, shopping centres (and soon some Delhaize stores), hospitals, petrol stations, squares and urban streets, etc. So the good news is that finding a charging point on your route should no longer be a problem.
More than 700 Chargy public charging points are already available nationwide. The government is now also expecting these vehicles to gradually make their way into private companies, with a call for projects (until 31 May 2023) dedicated to businesses that want to install a charging infrastructure. This initiative follows a first round of government aid, thanks to which no fewer than 672 Luxembourg companies have had charging points fitted!
More powerful and faster points
Another frequent obstacle to buying an electric vehicle is the charging time, which is obviously not insignificant. At a standard Chargy terminal (22 kW) this takes between 1 hr 30 and 4 hrs (depending on the vehicle model and the state of the battery), which means that motorists need to plan their travel, at least on long journeys.
However, the arrival of ultra-fast charging points should change things: since the summer of 2022, Luxembourg has been fitting its main roads with much more powerful stations (160 to 300 kW), called "SuperChargy". These new installations allow you to charge from 20% to 80% battery power in 15 to 45 minutes! 88 of these points will soon be added to the standard Chargy points in no fewer than 19 strategic locations in Luxembourg. However, it's best not to do lots of fast charges when you don't need to, as this can speed up wear and tear on the battery.
Charging your car at home: comfortable and economical!
It's worth thinking about: a home charging point is much more convenient and often much cheaper to use than public charging points, as these charge a flat fee in addition to the price per kWh. What's more, some electricity suppliers offer special "electric vehicle" deals that are fairly advantageous, meaning that the installation (which costs between €1,700 and €2,700) can quickly pay for itself. Of course, you can always charge your car at home using a standard power socket, but these aren't always easily accessible, and using an extension cord is out of the question due to the risk of overheating. In addition, the charging time will be much longer.
Good to know: For the whole of 2023, the government is granting a reduction in the electricity tariff (maximum €0.50 per kWh) to all users of electric car charging points. More information can be found at www.subvention-electricite.lu.
Running out of battery?
Are you still worried about the battery running out on the road? Don't hesitate to ask: some car insurance policies offer a specific breakdown service for electric vehicles in this scenario.
Foyer car insurance provides cover for electric and hybrid vehicles, including towing assistance, which ensures that your vehicle is towed to the nearest electric charging point if your battery is flat. Charging cables are also insured by default in case of theft.
To learn more, don't hesitate to contact a Foyer agent.
Did you know that Foyer offers a discount on insurance premiums for drivers of electric vehicles? Calculate your tariff.
Share this article: