Home > Blog > Home > Works of art and insurance: 3 things you should know
Works of art and insurance: 3 things you should know
Do you prefer modern art or the old masters? Whatever your preferences, once you have acquired the works, you obviously need to protect them. There is a misconception that works of art are covered by standard home insurance policies. However, these policies usually exclude works of art or limit cover. Below, we set out everything you need to know to protect your collection.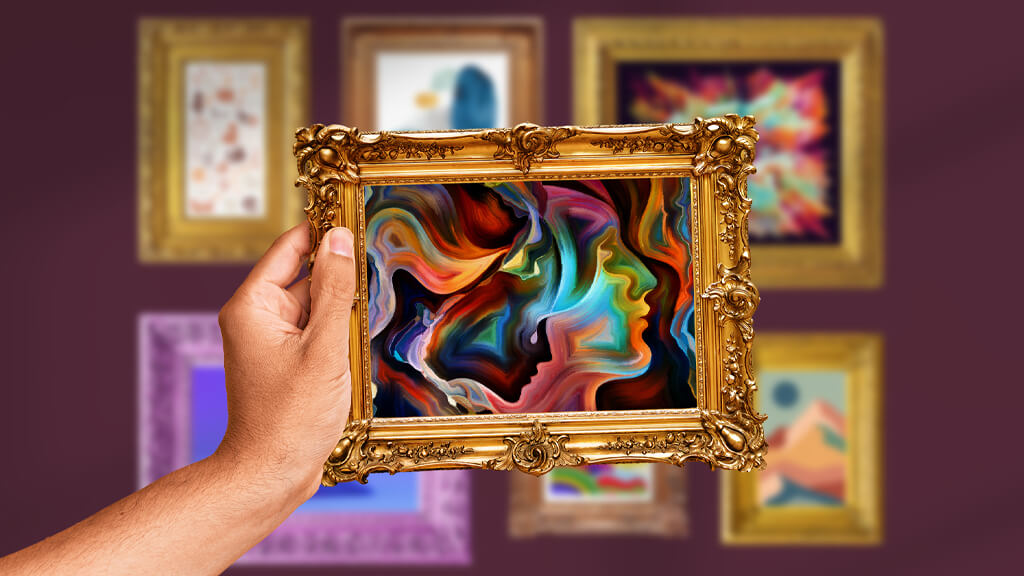 1. Damage to works of art
Art represents financial capital like no other. It may be extremely valuable, and its value generally changes over time. Investing in art may prove very profitable, but it requires special attention.
Works of art are tangible assets that may be physically damaged. They can break, degrade, tear or deteriorate in all sorts of ways, through deliberate or accidental damage.
In addition, there are a number of risks beyond the collector's control, such as damage when works of art are transported, framed, stored or handled by other people.
However, more than anything, what makes insuring art different is the fact that it is irreplaceable. When a piece is lost, damaged or stolen, it can seldom be replaced due to its unique nature.
The only way of protecting the financial value of these investments is with dedicated insurance, such as "Fine Art by Hiscox", available from Foyer.
2. Fine Art insurance offers more than financial compensation
Over time, as certain insurance companies have become increasingly interested in the preservation of artworks, they have become key players in securing our artistic heritage.
We provide advice to meet the needs of collectors, investors and the art trade. The insurer's role is essential in dealing with damage, resolving problems, providing recommendations, and raising awareness of the maintenance, repair and restoration of works of art.
There are many stories that illustrate what a work of art can be subjected to. One of these concerns Pablo Picasso's painting, Le Rêve.
Collector and casino tycoon Steve Wynn concluded a private agreement to sell the work of art to Steven Cohen, manager of a major investment fund, for a record price of 139 million euros.
However, the day before the transaction, Wynn accidentally put his elbow through the painting, putting a tear in the canvas of almost 20 cm. Of course, the sale was cancelled. Fortunately, as the painting was insured, the best art restorers were able to repair the work.
Cohen finally bought the painting seven years later at a public auction for 155 million euros. Despite this accident, Le Rêve remains Picasso's most expensive work.
This type of accident is all too real and can happen. The insurer's role is therefore to provide the financial resources to restore the work.
3. Insurance for works of art compared with other insurance policies
Most home insurance policies are solely designed to protect against certain events such as fire, theft and water damage. Conversely, a Fine Art insurance policy may also cover appraisal costs, newly acquired objects, international transit, etc.
Policies designed for collectors, such as "Fine Art by Hiscox", can be taken out in addition to standard home insurance. This insurance takes the form of an all-risk policy for furniture, jewellery, artworks and collectors' items. These are covered against water damage, accidental damage, theft, fire, but also during movements specific to artworks, such as travelling for loans to museums or exhibitions, or during the period they are with an art restorer.
Choose your art insurance with a company you can trust
Insuring works of art is a specific insurance segment. This type of specialist insurance requires an understanding of the need, and access to specialists in art valuation and conservation, and art storage facilities.
We have therefore chosen to offer you the best there is, with the product "Fine Art by Hiscox". Hiscox is the international benchmark for specialist insurance in protecting works of art. If you would like to know more about the coverage offered, how works of art are valued and how the insurance policy can be customised, please contact one of our Fine Art experts.
Share this article: