Home > Blog > News > The Foyer Nordstadsemi is 4 races!
The Foyer Nordstadsemi is 4 races!
The 19th edition of the Foyer Nordstadsemi will take place on 26 March 2023 in Diekirch. This sporting event is accessible to all, and over the past several years has generated much enthusiasm from both the participants and the spectators. The Foyer Nordstadsemi has become a true yearly meeting deeply anchored in the local life of Diekirch.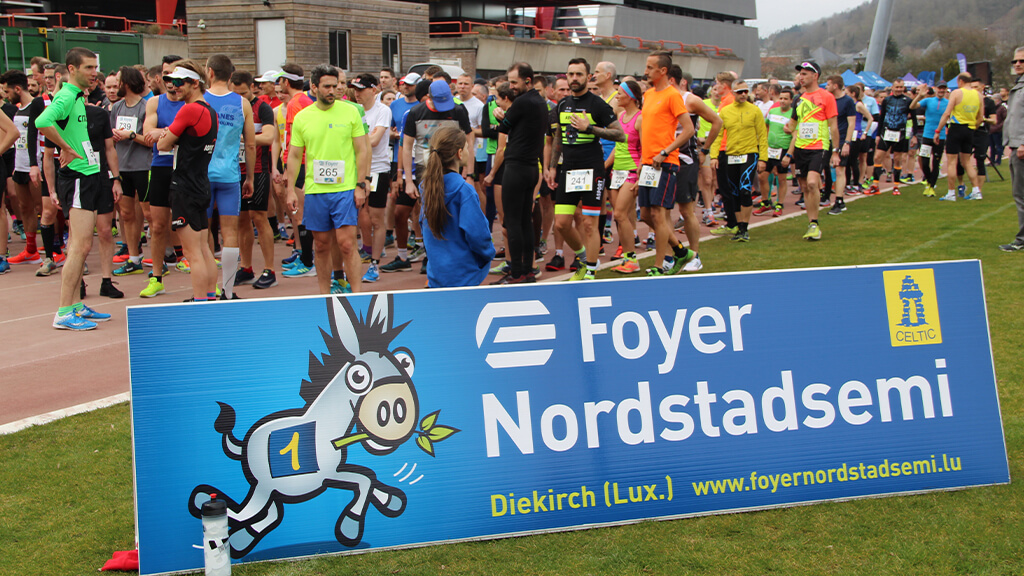 Foyer invites you to the traditional Foyer Nordstadsemi on Sunday 26 March at the municipal stadium of Diekirch.
This 19th issue of the event will start at 11am for the following categories: 5km, 10km and 21km. A 1km race for children is also scheduled at 11:05am and participation is free.
The prizes will be given at 11:45am for the 5km, 12pm for the 10km and 1pm for the Nordstadsemi. The three fastest men and women in each race will receive awards.
Involved for many years now in the country's local community life through associations, Foyer is proud to support Foyer Nordstadsemi from Diekirch, thereby reinforcing its goal to maintain its closeness to the general public and promote sports and wellbeing for each and every one!
In honour of the occasion, we would like to give you the opportunity to win 5 free entries.
The prize draw will take place on 26 March 2023.
To enter the draw, please complete the form below between 8 and 14 March.
The winners will be contacted by private message.
For more information about the terms and conditions of entry, please see the competition rules.
Good luck to all you athletes!
Share this article: