Home > Blog > > Everything you need to know about winter tyres in Luxembourg
Everything you need to know about winter tyres in Luxembourg
Winter tyres have been compulsory on Luxembourg's roads in winter weather since 2012. But the legislation is often misunderstood or misconstrued. When do you need winter tyres? Does it apply to cars registered in France? Are all-weather tyres good enough? Is fitting two winter tyres sufficient? A quick reminder of everything you need to know about winter tyres in Luxembourg.
Why are winter tyres compulsory?
Cold temperatures, snow and black ice all affect driving, and vehicles' road-holding ability. Luxembourg law requires the use of winter tyres mainly for the sake of road safety. In wintery weather conditions, stopping distances are 25% shorter on winter tyres in comparison with summer tyres.
More supple and flexible than summer tyres when the temperature falls, they also have better grip. Their tread also means that water, snow and melted snow are more effectively displaced.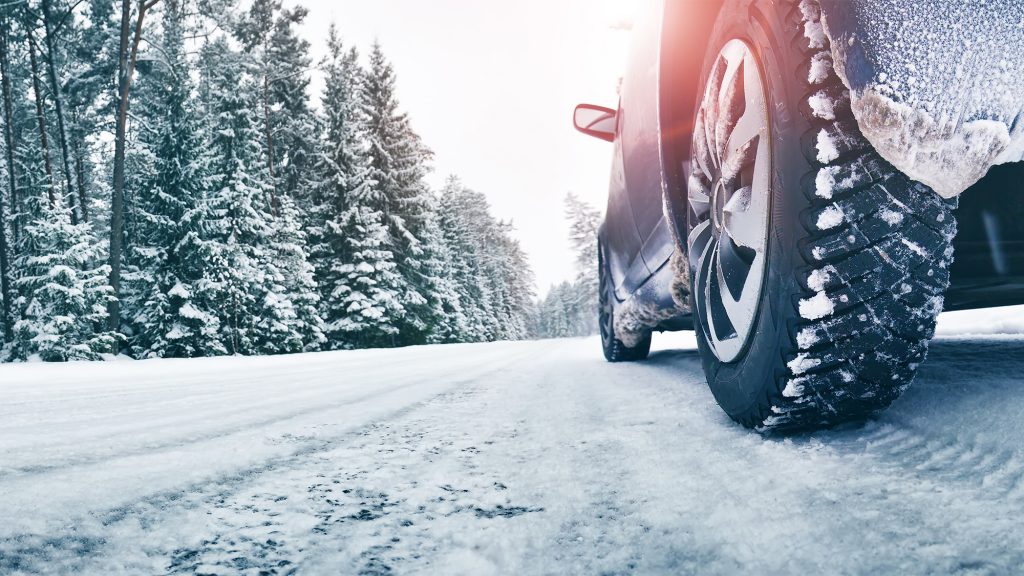 Do the rules apply to all vehicles?
Regardless of whether the vehicle is registered in Luxembourg or elsewhere, or whether you live elsewhere or are just passing through, whenever you drive on Luxembourg's roads in wintery conditions, any vehicle of class M1 as per Luxembourg's highway code (up to eight passenger seats plus the driver) must be fitted with regulation winter tyres, including vehicles towing trailers.
However, the legislation does not apply to parked vehicles.
The rules are different for HGVs, buses, coaches and motor-homes where the maximum permitted weight is over 3.5 tonnes, for which having all the drive wheels fitted with winter tyres is deemed sufficient.
The legislation does not apply to mopeds, motorcycles, tricycles, light quadricycles and quadricycles, together with tractors and self-propelled plant and machinery.
Other exceptions exist for certain special vehicles for which suitable winter tyres do not exist (army, police, customs and excise, emergency services vehicles and some local fire and rescue services vehicles).
When should winter tyres be fitted?
The law does not stipulate the dates when winter tyres should be fitted and removed. The rules actually apply all year round, whenever the weather conditions are "wintery", meaning when there is black ice, packed or melting snow, icy patches or frost.
So, when should they be fitted? Think ahead! The best idea is to keep an eye on the weather forecast. As a general rule, the Luxembourg police force recommends having winter tyres fitted from October to Easter. Even outside wintery weather conditions, tyres' performance drops noticeably once the thermometer falls below 7° C, in terms of grip and stopping distances, for example.
Is it possible to make do with two winter tyres?
No! Combining winter and summer tyres is not permitted, except for heavy goods vehicles, coaches and motor-homes of maximum permitted weight over 3.5 tonnes (see "Do the rules apply to all vehicles" above). Your winter tyres must without fail be fitted on all the vehicle's wheels.
Do all-weather tyres comply with the regulations?
All-weather tyres are a legally-permitted alternative in Luxembourg, provided that, like all winter tyres, they are marked "M.S.", "M+S", "M&S" (mud & snow) or bear the snowflake Alpine symbol. Users should be aware that the performance of these tyres in wintry weather is not equal to that of winter tyres; they are a compromise.
Ensuring winter tyres meet the legal requirements
In addition to the regulatory "M/S" label or the Alpine snowflake symbol, the Luxembourg highway code requires winter tyres to have tread of at least 1.6 mm in depth.
That said, the Luxembourg police recommend that winter tyres are replaced once the tread is less than 4 mm, to maintain optimum grip and stopping distances. In any case, you should check the condition of your tyres regularly.
What are the risks of not using winter tyres?
If you drive in Luxembourg using a vehicle not fitted with winter tyres when the weather conditions require them, you run the risk of a fine, or a charged warning, of €74. In addition, the police may immobilise your vehicle on the spot.
It is better to show you are a prudent citizen!
Share this article: