Home > Blog > Mobility > Breaking down on the motorway: 7 mistakes to avoid
Breaking down on the motorway: 7 mistakes to avoid
One in two motorists makes at least one mistake when breaking down or getting a puncture on the motorway. However, the slightest blunder on a fast road can cost you or your passengers their lives. So are you sure you know the right things to do?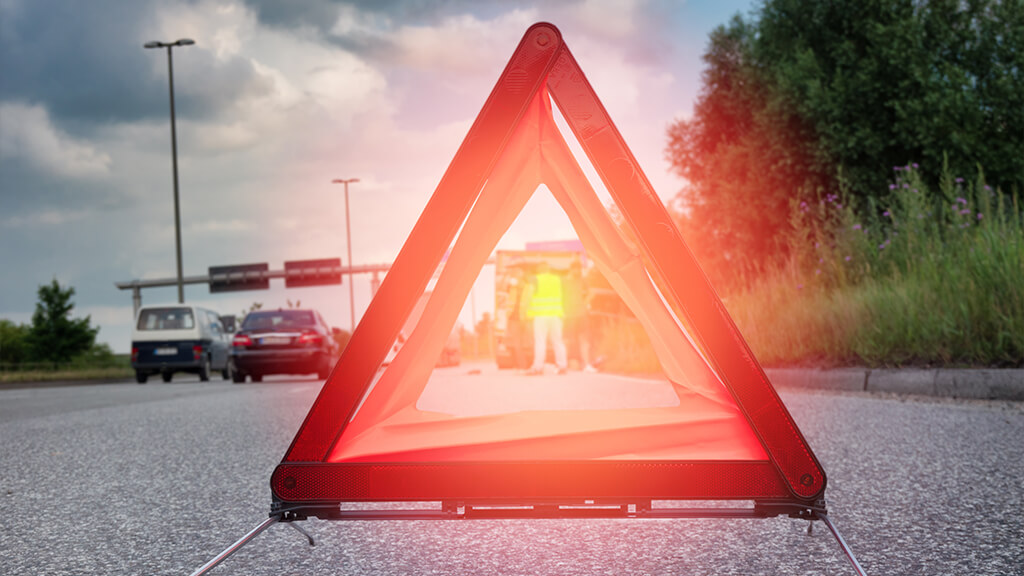 Mistake 1: stopping in the emergency lane
A tyre bursts, the clutch isn't responding, an engine light comes on… In this emergency situation, many motorists stop as quickly as possible, and therefore in the closest place possible, in the emergency lane. However, this is the last thing to do if it can be avoided! Unfortunately, accidents involving vehicles parked in the emergency lane are frequent. It's therefore best to stop in the emergency lane only as a last resort and to try to get to the next exit or the nearest rest area instead, where you can manage the situation safely.
If absolutely necessary, park your vehicle as far to the right of the emergency lane as possible and switch on your hazard lights.
Mistake 2: having a safety vest… in the boot
Many people put their fluorescent vest in the boot. However, if you run into a problem on the motorway, you may have to rummage around in the back of the car for ages to find this invaluable safety item, during which time you're especially vulnerable! Always keep safety vests in the car, within easy reach. If you regularly carry passengers, you should also consider having several vests, ideally one for each passenger.
Mistake 3: putting up your warning triangle
It's no longer mandatory to put up a warning triangle on the motorway, so don't take unnecessary risks by trying to place your triangle further down the road. It can also endanger other motorists if it gets blown into the other lanes.
Mistake 4: trying to stop other vehicles
Even if you need help, don't try to attract attention or stop other vehicles on the motorway, for example by waving from the emergency lane. You could cause an accident by distracting drivers and, more importantly, you could be hit yourself.
Mistake 5: attempting a repair or changing your wheel at the edge of the motorway
For the same reasons, never try to repair your car (even if it's a minor technical problem) or even change a wheel in the emergency lane. Also, by law, repairs must never be carried out on public roads!
Mistake 6: staying in (or next to) your vehicle
Take it from us: no matter how bad the weather is, you should never stay in your car in the emergency lane, let alone lean against the bonnet. Once you've put on your vests and switched on the hazard lights, immediately get everyone on board (including yourself) out via the right-hand side of the vehicle and get to safety behind the guardrails as quickly as possible!
Mistake 7: calling the breakdown truck before the emergency services
Only when you're safely behind the barrier should you then call for help. Call 113 first, as the police will handle traffic safety as soon as possible and put up signs. Only afterwards, once the emergency services have been alerted, should a breakdown truck be called. Then wait for the emergency services to arrive, always staying behind the guardrail, and don't get back into your car.
If there were just one golden rule

Whether in or out of your vehicle, NEVER stay on the motorway lanes or in the emergency lane.
In the emergency lane, the life expectancy of a pedestrian is just 15 minutes on average!
A breakdown or towing service on the motorway can cost a lot of money – unless you've taken out breakdown assistance.
Do you have breakdown assistance with Foyer? Then we have good news! Just call +352 437 43 123. Your Foyer agent will arrange for an onsite breakdown or towing service, 24/7.
Can't remember if you've taken out breakdown cover? Check the guarantees covered by your Foyer policy via your Customer Space or your MyFoyer app.
Share this article: