Home > Blog > Home > What to do in the event of bad weather
What to do in the event of bad weather
The weather in Luxembourg is neither the most generous nor the most hazardous. We don't have hurricanes, but we have storms. We don't have tsunamis, but we have heavy rain.

Storms – sometimes accompanied by heavy rain, strong winds, hail and lightning – can wreak havoc in a short period of time. Climate change and disruption to the seasons are also increasing the frequency of severe weather. Meteorological emergencies are increasingly becoming part of our daily lives.

In this article, we offer some tips that should help you prepare your home and respond properly to all storms.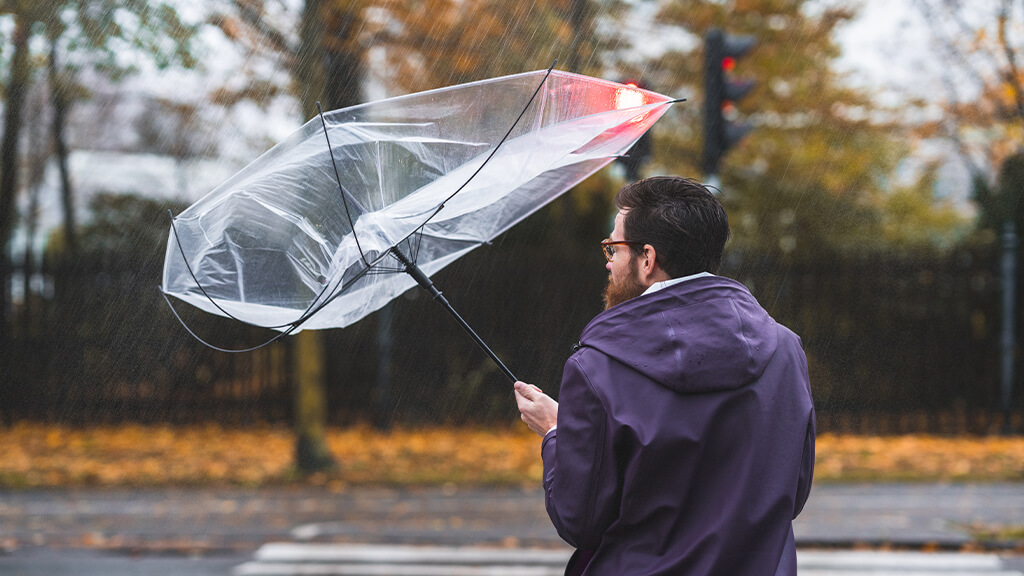 Is a storm forecast? Make sure you secure your family, your home and all your belongings:
Check that all outdoor objects are secure, including your garden furniture, swing, trampoline, greenhouse, etc.
Avoid accidental flooding by cleaning gutters, drainpipes and drains.
Put your car in the garage or park it away from trees.
Keep a torch with you and consider recharging your phone in case there is a power failure.
In any case (especially if you live in an area prone to flooding), check that your home insurance policy fully protects your home and belongings.
What to do in the event of a storm or heavy rain
When you are in the middle of a storm raging around you, remember:
If there is a risk of lightning, stay indoors away from windows.
Flood waters are dangerous and unpredictable. Stay away from waterways, even in a car.
Disconnect all unnecessary electronic devices. They could be damaged by voltage changes (or cause electric shock in the event of flooding).
Final precautions after the storm
Has your property or your home been damaged? Follow our advice to avoid further damage:
If a window has broken, cover it with wood as quickly as possible to protect your home and avoid the risk of cuts.
Do not throw away any damaged items until they have been inspected by a loss adjuster from your insurance company. If you do, you won't be able to prove that your washing machine was flooded or that your computer was struck by lightning.
Don't approach fallen power cables or touch anything in contact with them. They may still be live even when they are on the ground.
Share this article: