Home > Blog > Health > Participating in athletic activities. Is your child insured?
Participating in athletic activities. Is your child insured?
Sports and physical activity play a crucial role in children's development. They promote physical, emotional, social, cognitive, and mental wellness. Fortunately, most children are naturally motivated to expend energy. However, falls and injuries are almost just as natural. If your child becomes injured at school, while participating in a club sport, at home, or at an athletic competition, do you know which type of insurance would come into play?
There are three types of insurance that apply in these types of situations:
Third-party liability (schools, clubs, event organisers, or other third parties)
Accident insurance (collective or private)
Health insurance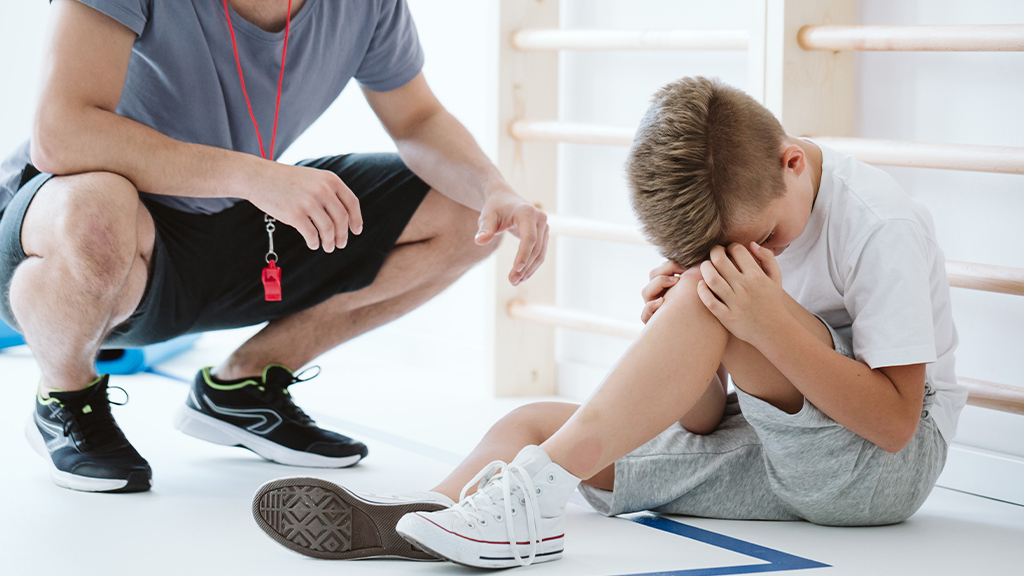 First line of defence: third-party liability insurance
Even though not every organisation is required to carry third-party liability insurance, almost everyone has it. There is a specific type of insurance for every user—third-party liability for teachers at schools, third-party liability for event and competition organisers, third-party liability for associations (for athletic clubs, for example), and private liability insurance for individuals.
Before this insurance can take effect, three factors must be present—damage, fault, and a causal link between the fault and damage. Damage might be caused by a defective piece of equipment or protective covering, inadequate monitoring by a teacher, an accident caused by a fellow classmate, etc. In that case, the third-party liability insurance of the responsible person or organisation will cover the medical costs, the cost of returning to normal life, also any legal damages.
The compensation will depend on the seriousness of the injuries, the cost of the child's recovery and the cost of any future consequences.
Characteristics:
In the event of proven responsibility
Compensation for the harm suffered
In sports, there is also a collective accident insurance
Sports clubs and competition organisers typically carry a collective accident insurance for all their members. However, far fewer schools have this type of insurance. It's important to find out in any case to know what to expect. Failing that, we recommend purchasing private accident insurance, which will cover your child and the entire family everywhere and at all times (more details are to follow in this article)..
This type of insurance covers injuries that your child might experience (in most cases the child is the only party involved). The policy covers the damage suffered and can also pay for the cost of hospitalisation and medical care, as well as additional cover (assistance, childcare services, etc.).
Characteristics:
All accidents (except for excluded sports)
Extensive coverage
Compensation in the event of disability or death
Additional cover: assistance, specific coverage for children and medical costs
Health insurance for immediate healthcare needs
Health insurance covers either individuals or families and is a "must" for parents. If your child becomes injured at home, school, or on holiday, all medical care and hospitalisation costs will be covered (in addition to any reimbursements paid by social security), including doctor's visits, transportation via ambulance, a private hospital room, and more.
Characteristics:
All accidents
Coverage limited to immediate medical care
Personal accident insurance for total peace of mind
This type of insurance follows the same principles as the collective accident insurance described above, except that it applies to children or the entire family, regardless of the circumstances. There are in fact a few exceptions—for example, a few high-risk sports are excluded.
This insurance is key in the event of temporary or permanent disability.
It can cover the cost of caring a chronic condition, cosmetic surgery, or the cost of home adaptations. To maintain quality of life, assistance services and emergency services can also be covered. These include the cost of making up for missed school time, housing costs so one of the parents can stay close to the hospitalised child, childcare costs, and the cost of a home health aide.
If a death does occur, this insurance would provide compensation to the family.
It is important to note that there are two formulas to choose from: compensation based protection and a set flat-rate protection. Ask your insurance agent for more advice.
Characteristics:
All accidents (except for excluded sports)
Extensive coverage
Compensation in the event of disability or death
Additional cover: assistance, specific coverage for children and medical costs
Share this article: